Day 68: Sunday, November 11, 2012
Port to Port: Apalachicola to Carabbelle, Florida
Underway: 7:55 am      Motor Off: 1:45 pm      Miles Traveled: 31      Stayed At: Marina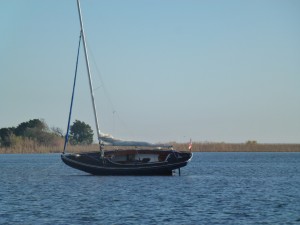 First Things First: First time cruising in the Gulf of Mexico.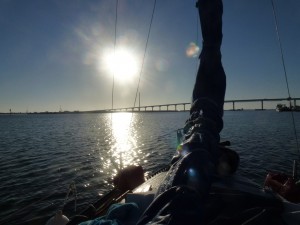 Mile 350 to Mile 381: Today was a relatively short hop but we had our first direct experience with the Gulf of Mexico. This part of Apalachicola Bay and St. Georges Sound is somewhat protected by barrier islands to the south and east but it still is big water with a long fetch. Conditions at the Marina were calm but as we motored into the Bay a steady breeze built right on our nose out of the northeast and a moderate chop slowed our progress all morning. Aurora and Boris pounded through it without much complaint (and the dolphins that regularly greeted us enjoyed zooming through the waves with seemingly no effort) but we were relieved when we finally turned into the channel for Carabbelle and entered more protected waters.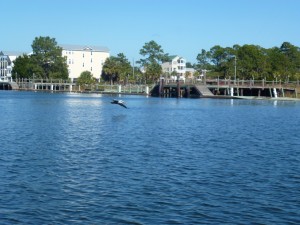 We stopped at C-Quarters Marina for the day – a classic old school marina with a large covered deck facing the water, a semi-permanent group of locals with beers in their hands discussing the important topics of the day and a line of rocking chairs just made for relaxing after a bumpy ride on the Bay. We parked next to "2 If By Sea" and met our other neighbor Larry on Champ 3 and Candy – a friendly and beautiful lab – as we pulled into our slip.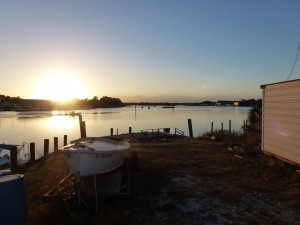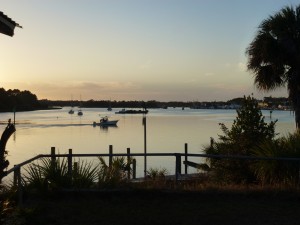 Carabbelle is another "Old Florida" town with a lot of history and an interesting mix of old and new – like Apalachicola, fishing and tourism help the town survive. The two most important stores for cruisers – the grocery store and hardware store – were only a block or two away and well stocked with all the essentials we need. We wandered around town for a while and went to the grocery store to get a few things for dinner. The weather doesn't look good for a crossing in the next few days – too windy – so we will likely be hanging out in Carabbelle for as long as needed to get a good weather window.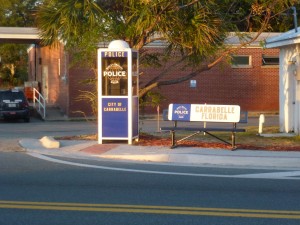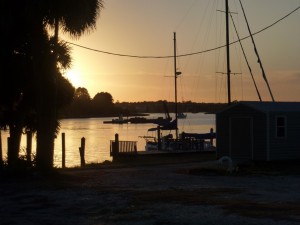 We have a lot of projects to get done before we will be ready for our Gulf crossing. Those rocking chairs look like a nice place to chill while researching the weather and routes for crossing the Gulf. Our work is never done.