Day 43: Wednesday, July 8, 2015
Stop to Stop: Marin Headlands Hostel to San Francisco
Underway: 9:30 am    Off Bike: 1:30 pm   NRide Time: 2:28 hrs    Stayed At: Apartment
Miles Traveled: 22.4   NTotal Miles: 2,978.5    Weather: Foggy, mist
First Things First: First time riding my bike from Minnesota to San Francisco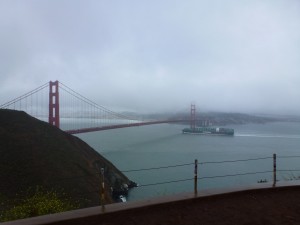 Mile to Mile: if I didn't have such an important surprise lunch date with Jess and Cindy I might have stayed another day at the hostel. Hopefully I get a chance to come back. After whipping up some pancakes for breakfast and dawdling as long as possible I headed out for the last big climb up to the top of the headlands and down along the coast road to the Golden Gate Bridge. What an amazing sight even on a foggy and slightly misty day. After reaching the top and pausing to take some pics I zoomed down the hill to the bridge. Just as I reached the first massive tower the sun tried to peak out and I was able to get some good "selfies" of the bike and I. It is surreal to be here after so many miles thinking about it. I was ready to be done but didn't want it to end.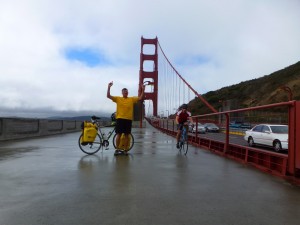 After communing with the bridge for a while I headed off to my surprise lunch date with Jess dodging crazy tourists on bikes all the way. After 3,000 miles I almost got taken out by a women veering into my lane on a rental bike while looking at the scenery instead of where she was pointing the bike. Crazy tourists…there should be a law……
I timed it perfectly and showed up to Jess' work just after Cindy got there so we had a nice reunion and fun lunch before we headed off to the apartment. We celebrated the end of the trip with dinner at our favorite pizza place – the Little Star – and had fun catching up on everything new in life.
Wind, rain, sun, clouds, hot, cold, big hills, dirt, dust, cars, trucks, noise, flats, rednecks, bad food, sketchy campsites, lonely roads, pain, sweat…Was it all worth it? Was it worth it to see the stars in Montana or climb Lolo Pass (and pedal downhill for 74 miles) or have the best fish dinner in Gackle, ND or meet my fellow bikers along the way or to finally get to to Missoula, MT after 39 years or race an antelope down the hill or wade in a mountain stream or enjoy an unexpected treat from my road angels or eat breakfast at McKenzie Pass or see the Pacific Ocean through the fog or camp among the redwoods or bicycle over the the Golden Gate after 3,000 miles of pedaling… Yes, I think the answer is yes!