Day 70: Tuesday, November 13, 2012
Port to Port: Carabbelle, Florida
Underway: 0:00 am      Motor Off: 0:00 pm      Miles Traveled: 00      Stayed At: Marina
First Things First: Saw first baby manta ray – caught by someone off the marina dock.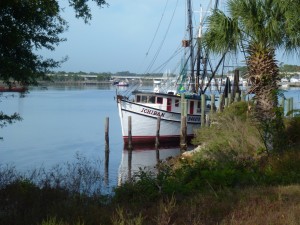 Mile 381 to Mile 381: It looks like a weather window may open tomorrow and Thursday so everyone is nervously prepping themselves and their boats for the trip from Carabbelle to Tarpon Springs. We had originally planned to go almost straight east to Steinhatchee – a shorter and more manageable trip for our small boat – but have decided to try to go direct to Tarpon Springs. Both routes will require overnight passages and the direct route will save at least a week of additional Gulf travel (or more depending on the weather windows) and avoid cruising in and out of several shallow water ports along the remote Big Bend part of northwestern Florida.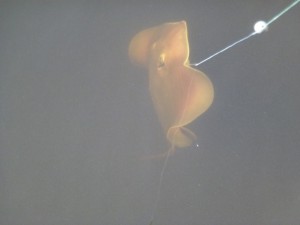 We took a break from boat projects and went to lunch at The Fishermans Wife with friends from Blue Angel and Northstar. Amazing food. I had the shrimp basket with hushpuppies. Can you guess what Cindy had for lunch? Later in the afternoon, we splurged and had the best strawberry shake of the trip at Carabbelle Junction. We enjoyed chatting with the owner earlier in the week. He had a restaurant in downtown San Francisco (where Jessie works) for many years and somehow ended up relocating to Carabbelle, Florida.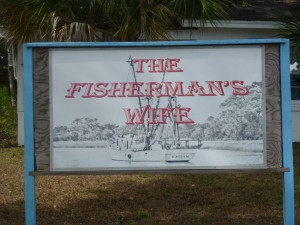 After several trips to the hardware store, gas station and grocery store we completed our boat prep projects before dark and met for one more planning session/happy hour at the Moorings. We would be leaving first since we travel slower and need as much daylight as possible. It will be nice to have other people passing us during the passage and, although they will arrive much earlier than we will, at least we won't be alone for the entire 30+ hours of the passage. Our final weather check will be at 6:00 am tomorrow with Buddy at the Moorings who will give a final assessment of the weather forecast for our planned route. This will be the most difficult passage of our entire trip – hopefully the weather will cooperate.