Day 384: Monday, September 23, 2013
Port to Port: Gilbert Island to Quincy, Illinois
Underway: 6:42 am      Motor Off: 5:04 pm      Miles Traveled: 33      Stayed At: Free Dock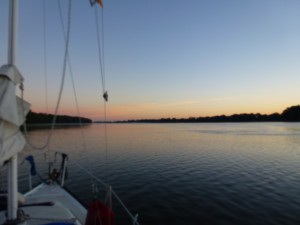 Mile 294 to Mile 327: After enjoying a quiet and gorgeous evening at anchor near Gilbert Island – the moonrise was particularly memorable glinting off the dark surface of the still water – we slept soundly and woke early with first light. Not only was there no fog to be seen but the sky was clear and the wind calm. And no tows in sight. What more could you ask for?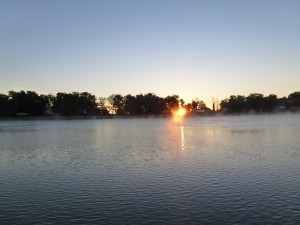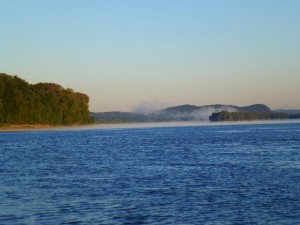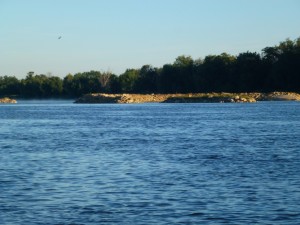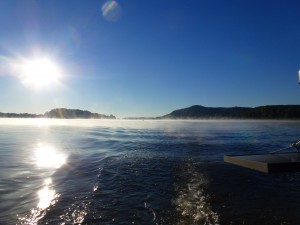 We were off quickly and made good time northward. We were able to put up the sail and get a good assist until we took it down for the first lock. We lucked out on our third lock – we were able to go right in and lock up without waiting. Third times the charm.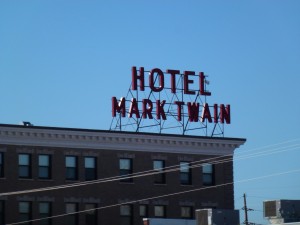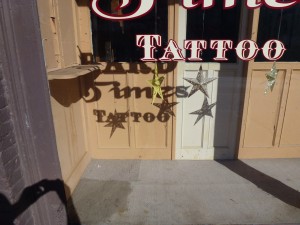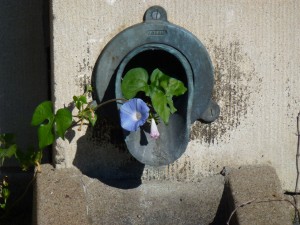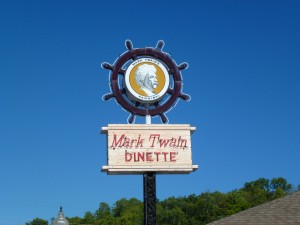 We made it to our first stop in Hannibal well before lunch. I walked to the post office to get a package we have been chasing since we left Chicago and I made a second trip to a gas station about 10 blocks away to fill one tank and get ice. We are set for a couple days now (or more).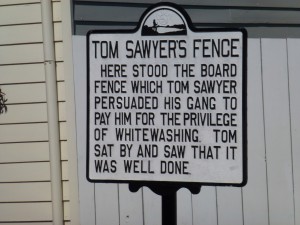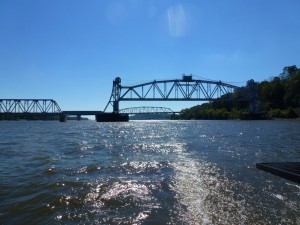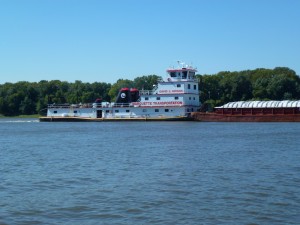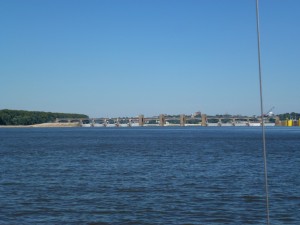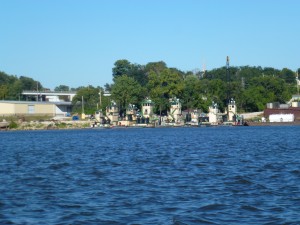 The afternoon winds were a little stiffer than the morning – luckily straight from the south so they gave us a significant boost toward Quincy. We cruised, sometimes a little overpowered, upriver at 5.7+ mph until we saw a tow in the distance and decided to slow down. It was the David Griggs again. We keep meeting up with him. He was waiting along the side of the river for his turn in Lock 21 so we knew we were going to be waiting for a couple of hours again.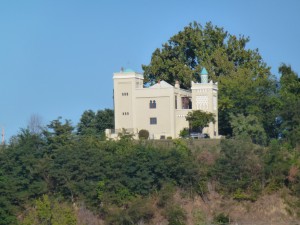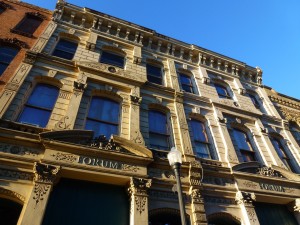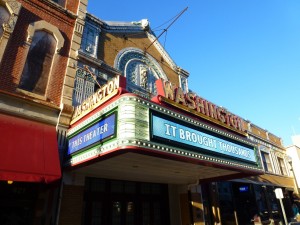 We didn't let this "downtime" go to waste, though. We anchored by the shore, outside the channel and got to work. We had lunch, we took chilly but much needed bucket baths in the cockpit, filled the primary gas can, cleaned up the cockpit floor, worked on the blog and worked on a few other minor projects. By getting them done at anchor, we had more time to wander around Quincy.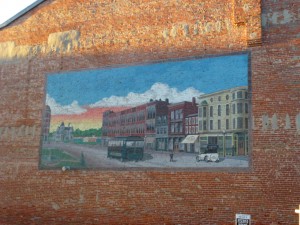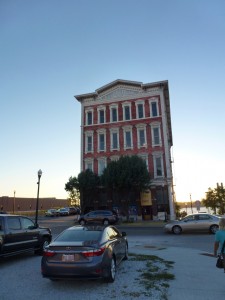 Before we knew it, the Griggs was through the lock and we were on our way to Quincy. We stopped at the Yacht Club dock like last time. We met Randy, a delivery captain, bringing an older Hatteras yacht up the river to Moline, Illinois for the owner. He was having some problems with water infiltration (the boat was sinking for a while) and he was waiting for parts. We wandered into town – a long walk uphill away from the river bottom – to try to find a place to eat out. Little did we know that almost all the restaurants in town (not too many to choose from, actually) had chosen Monday as their day off and were closed. So we finally gave up and found some frozen gourmet White Castle hamburgers that we could heat up quickly in the camper oven and returned to the boat just as the sun was setting. We moved the boat over to the municipal dock at the boat landing – we didn't feel like paying $22 for no services – and chatted with a local couple – Lynn and Kevin – walking their rather large dog Maggie (who lucked out and got some left over treats we had onboard for Squirt on Carina). Dinner turned out surprisingly tasty and we quickly ate and retired below before the bugs came out. Another interesting and productive day on the Great Loop.