Day 390: Sunday, September 29, 2013
Port to Port: Le Claire to Little Soup Bone Island
Underway: 6:48 am      Motor Off: 4:24 pm      Miles Traveled: 45      Stayed At: Anchor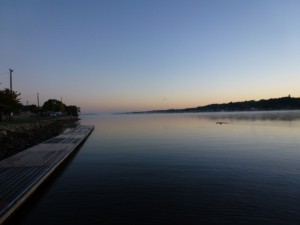 Mile 497 to Mile 542: It was cold last night. The temperature was 50˚ in the cockpit when we got up. The sky was clear and a light wispy fog added a nice accent to the early morning scene. After getting ice and some warm drinks at the gas station, we bundled up in the cool air, started Boris and cast off our lines. What a beautiful and surreal sunrise over the river. We never get tired of the view from the water.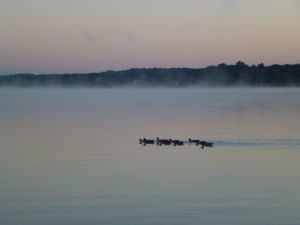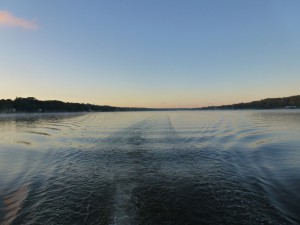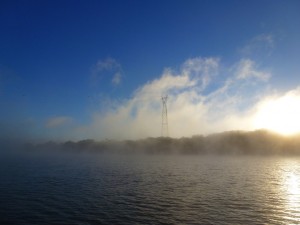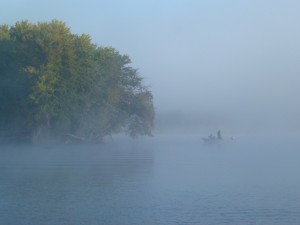 The current must have been light because we were making over 5.5 mph upstream at our normal motor setting. The water was calm. The fog gradually thickened as we moved north – you could see it flow down a shallow valley ahead and spread out over the river. We slowed a little and hugged the west shore where we knew there weren't any wing dams and the water was deep. It took almost an hour for the fog to completely burn off but we were able to keep moving slowly north. We only saw a couple fishing boats on the water – also moving slowly – and never had to pass a tow, thankfully.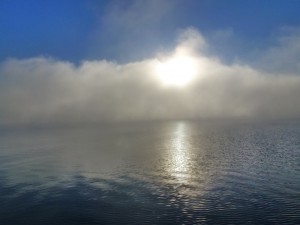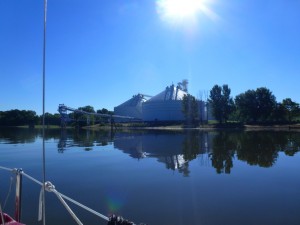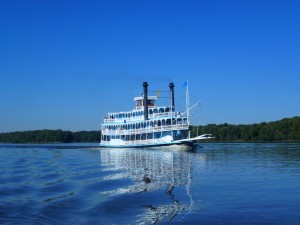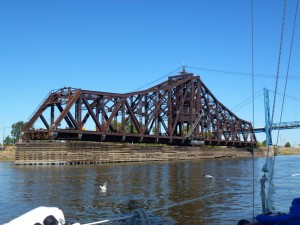 Another gorgeous travel day. We just cruised on a calm and mostly empty river. A couple hours after leaving Le Claire, the Twilight cruise boat passed us going north. They docked just a few hundred feet down from us in Le Claire. The Twilight looks like an old passenger boat from 100 years ago. It takes tourists on two-day excursions up to the casinos and hotels in Dubuque and then back home. That and a few bass fishermen was all the traffic for this Sunday morning. We soon came to our first and only lock – Lock 13 – for the day. We only waited about 20 minutes while they flushed a bunch of weeds out of the lock chamber and we were soon on our way again.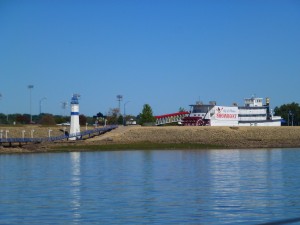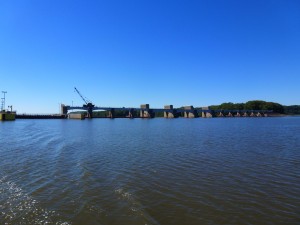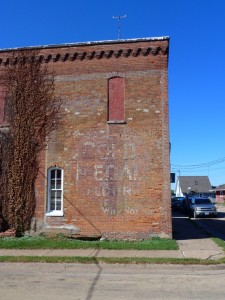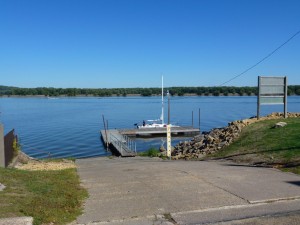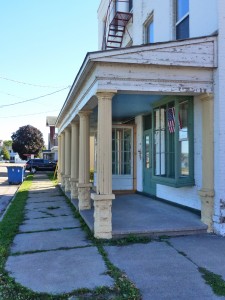 The afternoon was pretty much like the morning. We wound our way upstream with a nice gentle sail assist until we got to Sabula, Iowa where a convenient courtesy dock and gas station were ideally positioned just off the channel for a quick refueling stop. We only needed one can filled but when it is this convenient, it is wise to stop and refill. We passed the halfway point home on our Mississippi River journey at Mile 531 at about 1:36 pm in the afternoon. Our next milestone will be the Wisconsin state line near Dubuque and then the Minnesota state line later this week.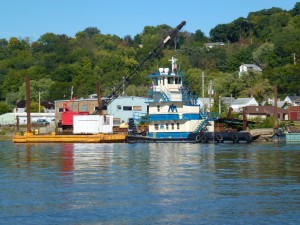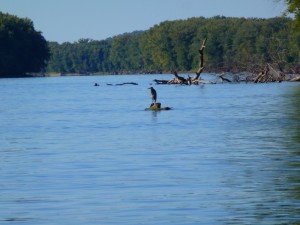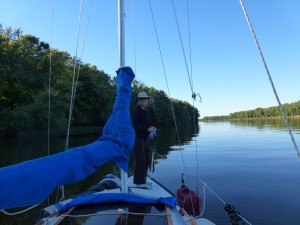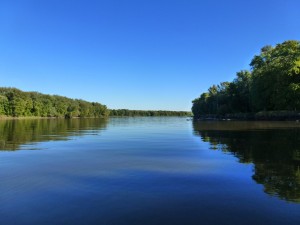 We passed our first tow late in the afternoon, on a sharp corner with a huge dredging operation in the way. It looked worse than it was and we passed each other on the one-whistle (port to port) with lots of room to spare. We passed by the anchorage where we stayed last fall to get a few more miles in on such a nice day and ended up at Little Soup Bone Island (right near Big Soup Bone Island) at MM 542. A good choice. Nice depths. Beautiful scenery. No train tracks nearby. And quiet.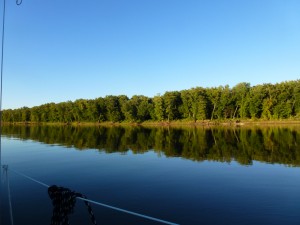 We quickly checked off items on our to do list – clean rust stains from locks off hull, clean decks, scrub bottom, bucket bath, plot route – and made one of our favorite dinners, meat loaf with red potatoes and beans. We can't make a loaf-type meat loaf so we mix the meat just like we do normally and make small patties out of it to fry in a pan just like a hamburger. It works perfect and we even have leftovers for meat loaf sandwiches the next day. What a treat.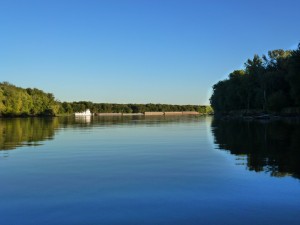 As soon as the sun went down behind the hills, the temps started dropping and we quickly finished cleaning up before heading inside to relax and read until we couldn't keep our eyes open. This seems to take less and less time each day. We'll be turning the lights out by 8 pm by the time we get to Minnesota at the rate we are going. This Looping thing is hard work I quess.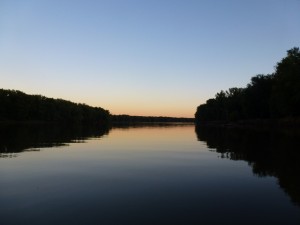 FYI – Things I would do different: Aurora and Boris have performed amazingly well on this trip. There aren't too many things I would do different but a few things come to mind. A simple, light, collapsible companionway cover would be nice to keep the weather out but still allow us to stand up in a small area in the cabin. If I did the trip again I would add an autopilot so we didn't have to hand steer for 6,000 plus miles. We thought about adding a tiller pilot this trip but they were expensive, added weight, and were another power draw that we didn't need. A smaller, lighter dinghy would have been nice because we have had the dinghy on deck for much of the trip taking up space and subtracting from our waterline. Bikes would be wonderful but they were too heavy and bulky for Aurora. New cushions with denser foam and divided into three sections instead of two would have made sleeping more comfy and allowed easier access to the many storage bins on the boat.  A wind meter would be fun to have for entertainment. Better phone service – the best for the Great Loop is either Verizon or ATT – would be a must-add even with the added expense. A custom 10+ gallon gas tank would have saved me a lot of time refilling – sometimes at difficult times – and would have allowed us to carry one fewer auxiliary tanks. I tried to find a bigger one before we left but didn't have time to get one custom made for our fuel locker.