Day 397: Sunday, October 6, 2013
Port to Port: Wabasha to Red Wing, Minnesota
Underway: 6:54 am      Motor Off: 12:05 pm      Miles Traveled: 31      Stayed At: Free Dock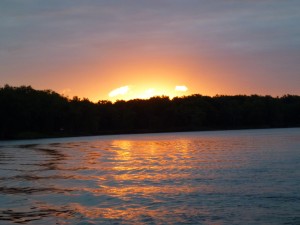 First Things First: First time using a marina restroom in a converted train caboose.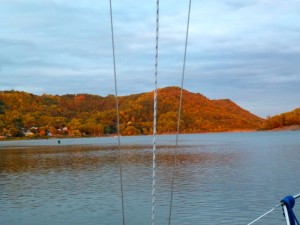 Mile 760 to Mile 791: As expected, it was cold in the morning. And overcast. At least we had a favorable if chilly wind. Unlike on our way down last fall, we were able to motorsail all morning. We were excited to be regularly hitting 6 mph on a beam reach all the way across Lake Pepin. We made really good time and turned the corner for Red Wing before noon.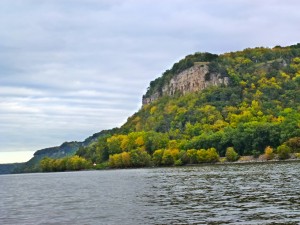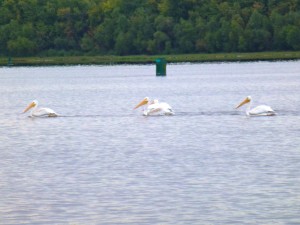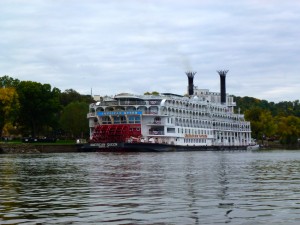 We had planned to tie up to the 300' long wharf wall downtown but there was a rather large boat in the way – the American Queen was calling on Red Wing. We didn't know how long they were going to be there so we pulled in to the Red Wing Marina and used their free day dock while we figured out what to do.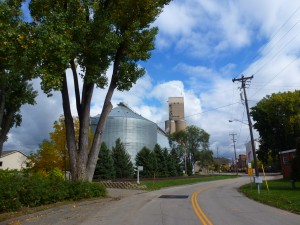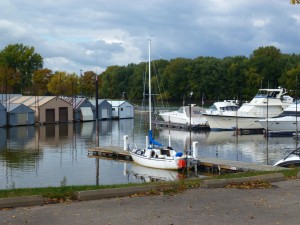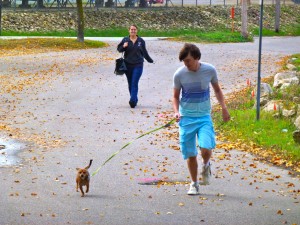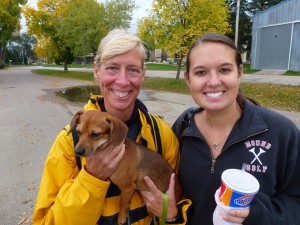 We were excited to be in Red Wing. Not only is it a nice town to explore and close to home, but Sarah, Jake and Snooter were planning to drive down to visit and go to lunch. They arrived early afternoon and, after playing with Snooter for a little while, we went to a late lunch and had fun exploring. Snooter is so cute! It really does feel like we are almost home.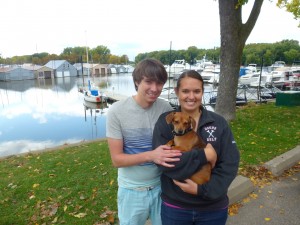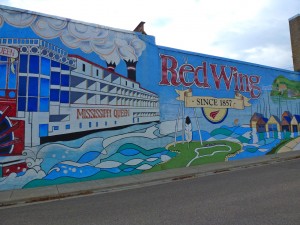 We had a really fun visit but were soon alone again after saying our (temporary) goodbyes. We noticed on our walk that the American Queen had left the wharf so, after Sarah and Jake were gone, we moved Aurora over along the wall for the night. We took a walk around town and stopped at a grocery store for the last time this trip before buttoning up the boat and watching some Big Bang Theory reruns for the first time this trip. A nice way to relax and keep our minds off of all the things we need to do when we get home. One day at a time, right?