Day 26: Tuesday, June 26, 2015
Stop to Stop: Oxbow, OR to Richland, OR
Underway: 7:45 am    Off Bike: 1:30 pm     Ride Time: 3:23 hrs    Stayed At: Park
Miles Traveled: 32.4     Total Miles: 1,771.0     Weather: Sunny, warm
First Things First: First tumbleweed.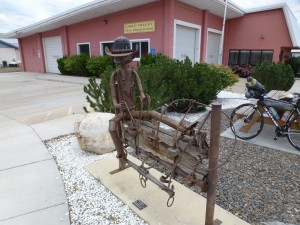 Mile to Mile: Short day, short post. Got up early, made oatmeal x 3, hit the road, climbed a hill, climbed another hill, went downhill for a little ways, climbed a bigger hill, saw a cow wandering around, stopped in Halfway for a snack, finished climbing the big hill, zoomed down the big hill into Richland, looked at a house to rent, left quickly, headed for a campground, had a guy stop and tell us to go back through town and set up our tents in the town park, found park, set up tents (and hammock) under big pavilion, watched first rain and wind in weeks pass by, rested, worked on projects, made dinner, laughed, relaxed, planned tomorrow and went to bed early.
Since it is Father's Day, it reminds me of a Father's Day in 2002 when we all sailed our little sailboat from Bayfield, WI the NYC. Our first stop on that adventure was Black River harbor on Fathers Day and one of my favorite pictures was of the girls sitting on some rocks with the sun setting on a great day. I wish everyone could be here to share this adventure but at least I can share some stories. A little lonesome but not a bad day on Mike's Great Adventure.
In Passing: Imnaha River, Officer Butte, Halfway, Immigrant Gulch.