Day 24: Friday, June 19, 2015
Stop to Stop: Motel near Lucile, ID to campground near Tamarack
Underway: 7:20 am    Off Bike: 7:30 pm    Ride Time: 5:09 hrs     Stayed At: Campsite
Miles Traveled: 60.4    Total Miles: 1,655.4    Weather: Sunny, warm, tailwind
First Things First: First swim in a hot spring pool; First trail name – Mongo.
Mile to Mile: Today was a leisurely 60 mile day. Cheese and I started the day with a good breakfast at the motel before heading to Riggins to try to connect up with Dragon again. He did finally respond to a text and happened to only a few minutes away. Reunited again, we hit the road again on another phenomenal travel day. We clicked off the miles, had lunch and continued to tick off miles. We followed various rivers most of the day through canyons and past ranches and farms.
Our big detour of the day was to try out a hot springs pool near New Meadows. The hot pool was really hot which made odd sense on an already warm day. It really felt good on our tired muscles, though. After several games of pig (guess who won) in the bigger cool pool, we dragged ourselves into New Meadows for BBQ and on to a "campground" just as the sun was setting behind the hills. It was good to be day to be traveling together again on this adventure.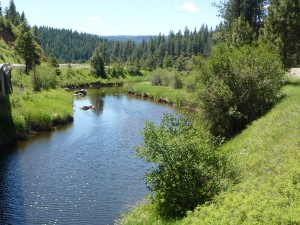 We hope to get to Oregon tomorrow or Sunday another cool milestone. The last state before hitting the ocean….Oh…and I finally got a trail name – Mongo. Not quite as cool as Maverick but it'll do. Mongo out…