'Day 35: Tuesday, June 30, 2015
Stop to Stop: Gold's Beach, OR to Del Norte Coast Red Wood State Park
Underway: 7:45 am    Off Bike: 3:20 pm    Ride Time: 5:45 hrs    Stayed At: Campsite
Miles Traveled: 62.8    Total Miles: 2,540.2    Weather: Fog/sun, cool/warm, calm
First Things First: First time riding my bike to California; First elk herd.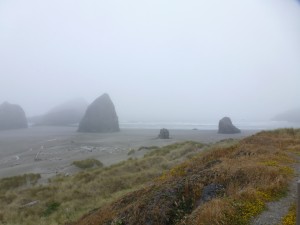 Mile to Mile: I could have written today's blog post title 35 days ago. I have dreaming of this day since I first decided to bike west. California did not disappoint. The day started cool and foggy as I made made my way along the last section of Oregon coastline. Even though there were scenic overlooks probably every half mile, I only saw the ocean once at the beginning – a solid bank of white fog made it impossible to even see the beach from the top of the overlooks. I'm just glad I had a little better view yesterday.
It was exciting to see the "You are now entering California" sing as I finished my last big climb in Oregon. Surprisingly, as I sped down the road into California, the blue skies opened up above me, the sun came out, the terrain opened up and flattened out and I swear I picked a small quartering tailwind. What a nice welcome to my final state.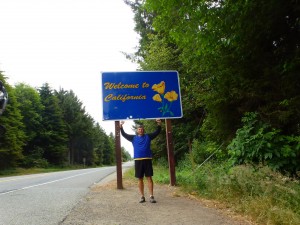 I was able to peel off on some side roads in the afternoon avoiding 101 traffic. The final few miles to my destination were amazing. As I slowly crawled up my first big climb in California I was met by giant old growth redwoods towering over me. I can't imagine what it is like to see these trees for the first time. I've seen them before and I am still in awe.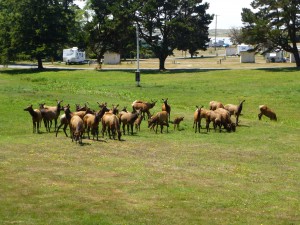 A long steep drop down into the park led me to my campground surrounded by redwoods. It will be worth the big climb out tomorrow morning. I am getting very excited to get to SF – I have 8 days to travel about 400 miles so I can stop and smell the roses…or at least look up at the tops of the trees.