Day 72: Thursday, November 15, 2012
Port to Port: Steinhatchee, Florida
Underway: 0:00 am      Motor Off: 0:00 pm      Miles Traveled: 00      Stayed At: Marina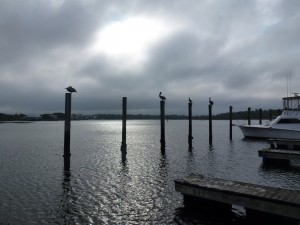 Mile to Mile: I woke early to a cool foggy morning – but the boat was still floating, we were tied to a dock that wasn't moving and sunlight was coming through the light fog and overcast sky. A very welcome sight. I walked a couple miles into town to scope out where we could stay until we go home for Thanksgiving and to find a hot cup of coffee. The "marina" we found last night is just some docks in front of a nearly empty condo building. Many of the slips are actually just framing the mud flats since it is now nearly low tide. Not a pretty sight but at least Aurora isn't sitting on the bottom.
I found some coffee, arranged for a slip at the Sea Hag Marina and walked back to the boat to get Cindy up and motor Aurora over to our new home for at least the next several weeks. The Sea Hag Marina looks like a fun place to hang out for a while. And we will have friends here – It'll Be Alright" motored in to the marina in the afternoon after waiting for high tide to navigate the shallow entrance up the river.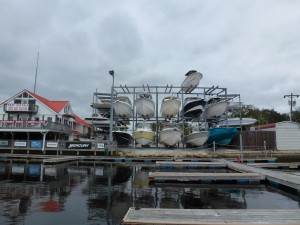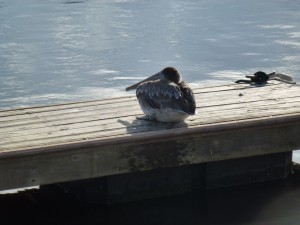 Although overcast for most of the day, we removed most of the cushions and other items that got wet in the crossing and spread them out on deck. We looked like a laundry barge again. We were able to arrange to do a couple loads of laundry – a welcome opportunity since we had two bags of wet and/or dirty clothes. We even had time to wander into town about a mile and a half away to scope out the grocery store, hardware store and restaurants.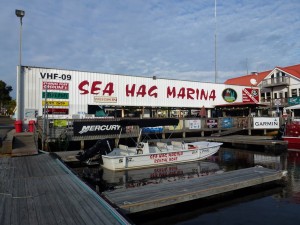 Steinhatchee is another example of old Florida. Recreational fishing and tourism help it survive. Plus many people probably commute into Gainesville about an hour away. Although there are a few newer condo/marina complexes (mostly they seem empty) along the riverfront, most buildings are old and in varying states of repair. Just perfect for exploring and picture taking expeditions. We even found a hole-in-the-wall BBQ place that sure smelled good as we walked by on the way to the hardware store. We can't wait to try out the local cuisine.