Day 164: Friday, February 15, 2013
Port to Port: Fort Myers Beach
Underway: 0:00 am      Motor Off: 0:00 pm      Miles Traveled: 0      Stayed At: Marina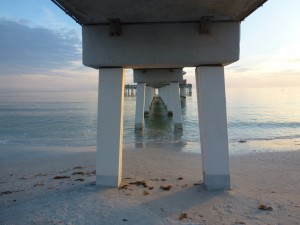 Mile to Mile: The sun is back. We missed her bright, shiny face. We volunteered again at the library this morning moving books from their storage facility to the new library. We have enjoyed meeting everyone involved and will miss our time here. We will have to find volunteer opportunities in the other communities we spend a little time in this spring.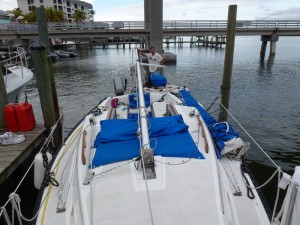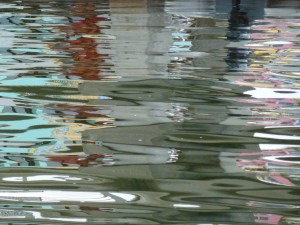 After we got back from the library Cindy decided she needed to make a new batch of dipped strawberries – they really need to be eaten the same day they are made or kept cold because the hot coating tends to cause the strawberries to start juicing after a day or so. Still tasty but messy. (Oh well, more for us). So she quickly made a new fresh batch for Linda and her sisters and we packaged them up and walked down to deliver them to the front desk at their hotel. What a fun surprise. Thankfully the weather is clearing up for for sisters weekend – they should have a blast.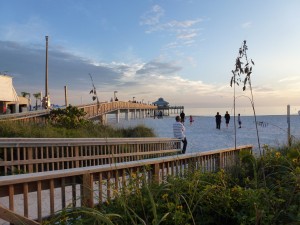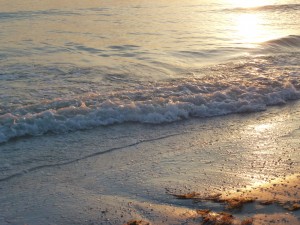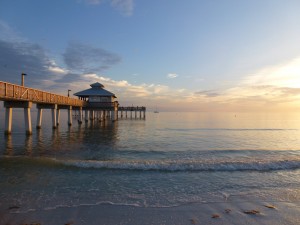 We felt inspired to work on boat projects after lunch so we dropped the mast to put in the new LED bulb for the mast light. This should reduce our power usage overnight when we anchor by 80+% changing one bulb. Wow! We tried to get LED bulbs to replace the ones in the cabin but the company we bought this from was out of stock and didn't know when more would be available. After re-raising the mast, we cleaned the bottom of the boat using a brush thing I made and two ropes – one on each side of the boat. We just pulled back and forth rubbing the brush over the bottom. It seemed to work pretty good and saves a lot of money having a diver come over and scrape. We'll see if our speed is compromised at all. I also pulled the dinghy out and scrubbed the bottom – this time, however, there was very little growth and the job only took about 10 minutes. Yaah!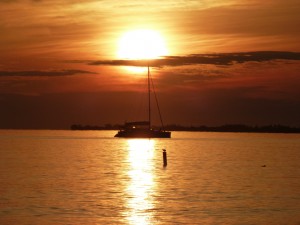 Tom, one of the characters that have been around this marina for a long time, finally returned from a month long absence. It has been really quiet around here without his smiling face and snide comments. It turns out he and Racheal are planning to get married in the near future and were off meeting parents and taking care of their respective homes. We wish them luck in their future adventures together. Now there is a life changing proposal.