Day 177: Thursday, February 28, 2013
Port to Port: Fort Myers, Florida
Underway: 0:00 am      Motor Off: 0:00 pm      Miles Traveled: 0      Stayed At: Marina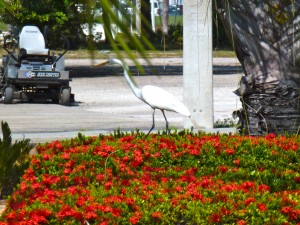 Mile to Mile: The day started overcast and with a chance of rain but quickly became sunny and warm (in the sun at least). I had some more library tasks so I left early and worked in quiet comfort until Cindy came with lunch again. In a repeat of yesterday, we enjoyed crackers and cheese on a park bench by the Florida Museum and watched the world go by.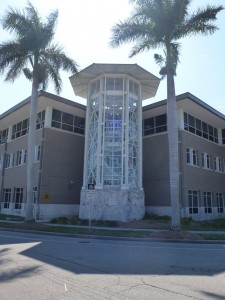 With no big plans today, we took a long meandering walk to the CVS pharmacy to get our annual calendars printed – every year since the kids were little we have made laminated one page calendars with one or two fun pictures on them. We are a little late this year – I can't imagine why. But better late than never – they turned out very nice and it will be fun to send them off tomorrow. On the way back to the boat we stopped at Palm Printing to get the prints laminated – great service and very reasonable prices. Another project off our To Do List.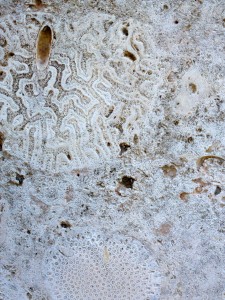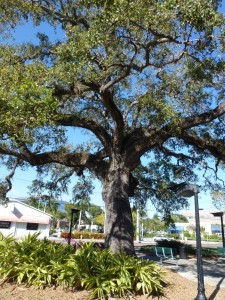 On our walk today we noticed some fossils right before our eyes. Some of the building – both old and new – are built using stone quarried from an ancient fossil coral reef. We tried finding a fossil fish but all we could see was lots of coral. Not something you see in Minnesota.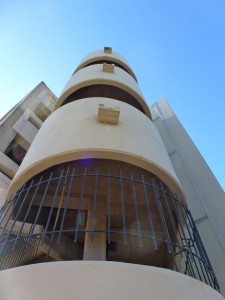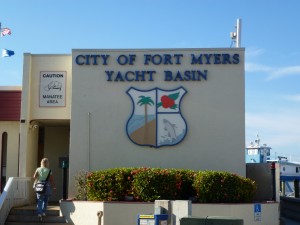 The day ended quietly with left over beef stew and a couple episodes of Big Bang Theory. Tomorrow we say goodbye to Eddy and Linda until we meet again.