Day 168: Tuesday, February 19, 2013
Port to Port: Fort Myers Beach
Underway: 0:00 am      Motor Off: 0:00 pm      Miles Traveled: 0      Stayed At: Marina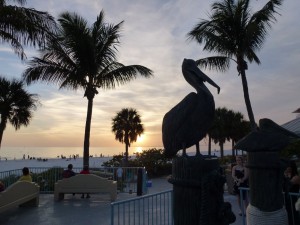 Mile to Mile: Today was cleaning day. Even though we are only traveling about 20 miles (4 hours) tomorrow, we like to have a clean and organized boat before traveling. Aurora got a thorough cleaning – even the cooler got a good scrubbing with bleach for the first time this trip. Surprisingly, even though the inside is always damp with condensation, we haven't had a problem with mold. We cleaned and organized the interior and charged and tested all of our electronics. We finally moved the dinghy off the dinghy dock where the sealant was drying (hopefully the last small leaks are sealed for a while) and tested the motor. Everything is ready for departure (we hope). Our goal is to leave about 10 am tomorrow to take advantage of the incoming tide as we go up the Caloosahatchee River. Wish us luck.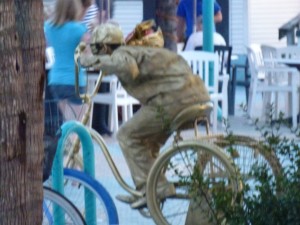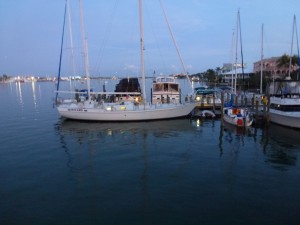 Cindy made some O'Henry Bars to give away as treats. We also met Richard and Sally for a late lunch at the Chinese Buffet – now we don't have to cook tonight. John – an old sailor we first met at the Marina BBQ – wanted to take us out for a beer before we left so we met him at the Upper Deck and chatted for a while. He used to stay in Fort Myers Beach on his boat but decided to sell it recently and is now staying at the Matanzas Inn for part of the winter. Even though we just met him, he has been so thoughtful and kind to us. When it was rough and cold last week, he even offered to let up crash in his room for the night – he used to be in our slip and knows how uncomfortable it can be when the wind roars down the channel. What a nice offer.
We are going to miss our new friends here and the beach (and the chicken wings and cheap breakfast) but we also are excited about the new adventures to come. Fort Myers here we come.