Day 170: Thursday, February 21, 2013
Port to Port: Fort Myers, Florida
First Things First: First time I've ever been caught up on the blog to the same day.
Underway: 0:00 am      Motor Off: 0:00 pm      Miles Traveled: 0      Stayed At: Marina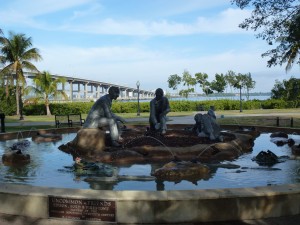 Mile to Mile: What a beautiful day in Fort Myers. We slept like babies last night. A light fog greeted us when we got up but burned off quickly. We got up, showered and were ready for our day before 9 am. One big plus here over FMB is the shower/bathroom situation. There are 4 shower stalls and two bathroom stalls in each bathroom, they are accessible by key code and available 24 hours a day. At FMB each bathroom only allowed one person or a couple to use at once and you had to stop in the office for the key each time. Waiting in line was part of the experience. And they closed at 9 pm. A minor hassle but we really like the facilities here. No fuss, no muss.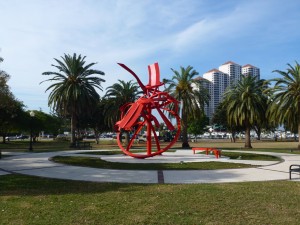 Our major agenda item today is to have breakfast with Eddy and Linda – they have scoped out the restaurants downtown and found a great breakfast place – First Watch Cafe. The server asked us if we had ever been here before and we said no. Well, we ordered coffee and were intently studying the menu when he delivered a pre-breakfast treat of a fresh fruit stuffed crepe with a strawberry yogurt topping. Wow! It was amazing and actually inspired Cindy to order it for breakfast. And what great marketing. Simple but effective. The pancakes, eggs and bacon were also drool worthy. So much food and so little time. By the way, the company was fantastic, too. We had a blast catching up and sharing stories. (I've run out of adjectives but you get the idea).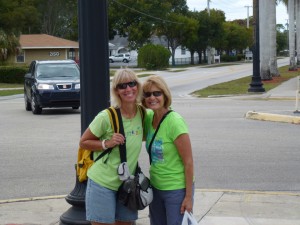 While we were wandering over to the restaurant from Legacy Marina, I got a phone call – it was Richard from Boomerang. He was at the Fort Myers Yacht Basin and wondering where we were. Wait….what? We just left them yesterday. Well, I had forgotten my shampoo, soap and razor in the shower yesterday before we left and had called them to see if it was still there (funny coincidence, they were actually in the bathroom when I called and saw my stuff right there – what are the odds). I had told them just to hold it in case we or someone we knew was going by but it happened that he had to drop off their sail here in Fort Myers to get it recut and he decided to stop by and drop my stuff off. How nice is that. It definitely is the simple things in life you remember and this will be one of those things. Thanks you guys for thinking about us – we can only hope someday to return all the favors.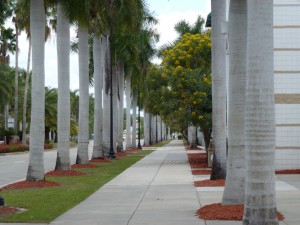 When we came back to the marina we were surprised to see that we were sandwiched between three Florida Fish and Wildlife boats – can't be much more secure than that I guess. They were getting there regular inspections to see if their boats and safety equipment were up to standards. Nice guys.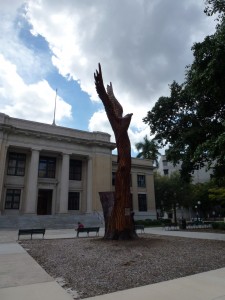 And the day wasn't done. We met Eddy and Linda for Happy Hour on the roof at the Firestone Restaurant downtown and had an panoramic view overlooking the waterfront. Linda gave us a wonderful homemade card with a picture of her and her sisters enjoying the dipped strawberries and pretzel sticks we left for them last weekend and we scored a couple of fresh sticky buns from a local bakery nearby courtesy of Eddy and Linda. How lucky are we. We shared some of our homemade gourmet rice krispie bars with them but I'm not sure they rank as high as stickie buns on the treat scale. More stories, a couple of drinks and a beautiful sunset later we called it an evening and went home to heat up some leftovers and called it a wonderful day. And tomorrow we are looking forward to another visit from our Minnesota-now-Florida friend Cliff who is driving down to visit us again – how lucky are we to have such great friends?