Day 373: Thursday, September 12, 2013
Port to Port: Chicago to Joliet, Illinois
Underway: 6:19 am      Motor Off: 2:22 pm      Miles Traveled: 40      Stayed At: Free Dock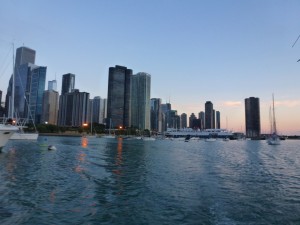 First Things First: First time seeing a NASCAR semi-truck parade.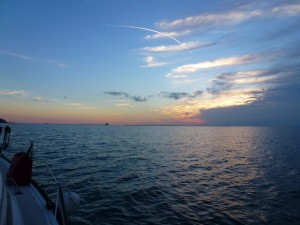 Mile 328 to Mile 288: Lakeshore Drive, Columbus Drive, Michigan Avenue, Wabash Avenue, State Street…one lock, 31 bridges and one hour later, we were past downtown Chicago and on our way south again. What an amazing experience to pass through a city like this on our own boat. The waterway was surprisingly quiet at 6:30 am in the morning – we only saw two water taxis moving in the first several hours of travel. Being down on the river, with all the tall building towering above you just as the sun is starting to light them up is indescribable. We didn't want it to end. But we were soon away from the city and passing through some industrial areas and tree covered shoreline on our way down the Illinois River.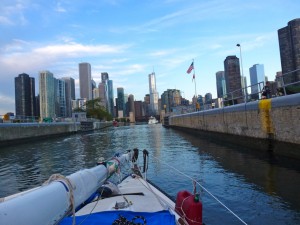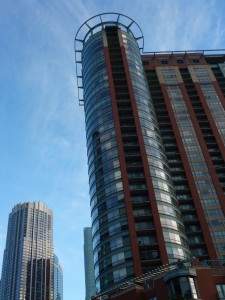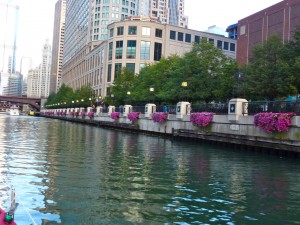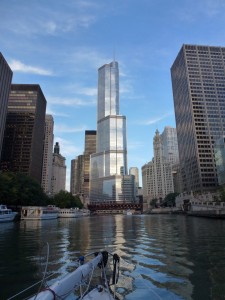 After a total of 2 locks and 67 bridges (we fit under all of them thankfully), we tied up to the free wall near downtown Joliet and were glad to be done early for the day. I walked a mile and a half to the nearest gas station to fill one of our cans. I had planned to walk about 3 miles to the main post office but the package we were expecting was awol and I spent an hour on the phone trying to find someone who could find it and forward it down the river farther. We will see what happens tomorrow. One of life's little inconveniences that Loopers don't get to avoid.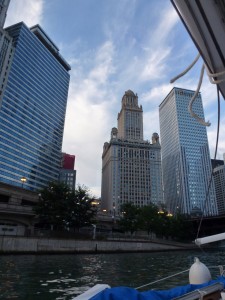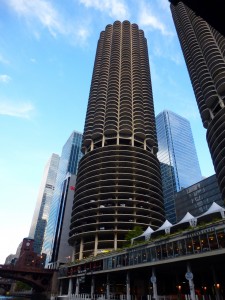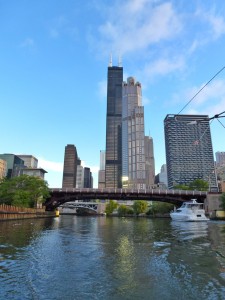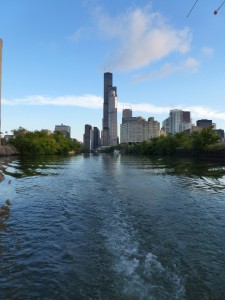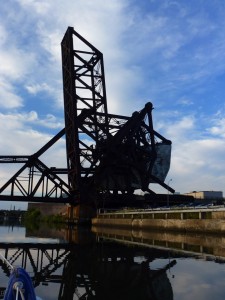 A short time after we docked we were surprised to see several shiny new semis going over the lift bridge near us and then several more and them several more – we had our own private NASCAR Sprint Cup Hauler Parade going by our stern. It turns out (according to Google), that there is a race at the Chicagoland Speedway nearby this weekend and this is their way to get the fans excited for the race. (Lucky a barge didn't show up needing the bridge opened up). I found out later, when I walked downtown (and saw the parade go by again), that there was a street fair in town tonight with old cars and race cars on display, fair food, beer and free music. Believe it or not, but I didn't buy a corndog (although, as I am writing this, I wish I had).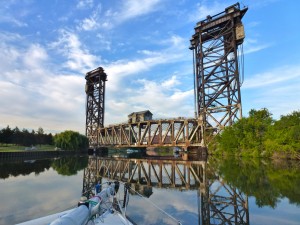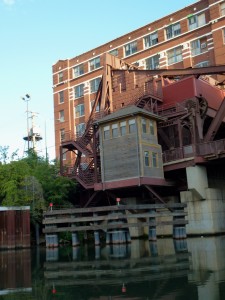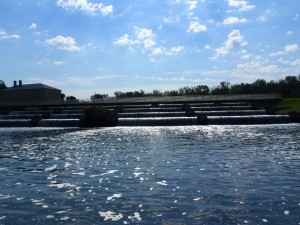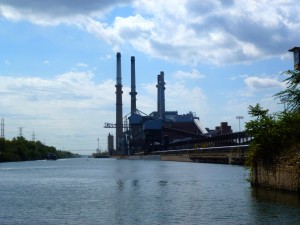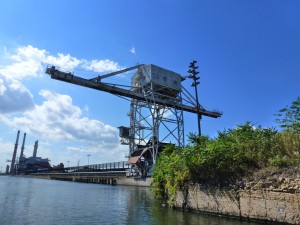 After our parades and projects, we heated up some leftover pizza (not as interesting as the fair food but a lot cheaper), relaxed, planned the day tomorrow and should sleep like babies with the finally cooler temperatures riding in with the north wind this afternoon. Just 288 miles and counting till we find our wake again. A drop in the bucket don't you think. What an amazing day.