Day 378: Monday, September 17, 2013
Port to Port: Le Grange Lock to Willow Island
Underway: 6:40 am      Motor Off: 2:20 pm      Miles Traveled: 50      Stayed At: Anchor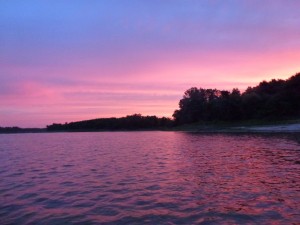 Mile 80 to Mile 30: After a quiet and peaceful night – we were both asleep by 9 pm (Looper midnight) – lulled by the sound of the water flowing over the dam and the ripple of water flowing slowly past our hull, we were up early at first light ready for our second to last day on the official Loop. If all goes well, we should complete our Great Loop tomorrow in a little less than a year (not including our trip down the upper Mississippi).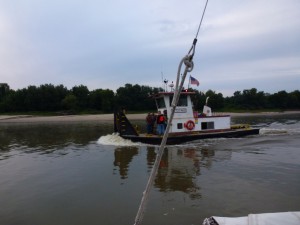 People ask us what is the hardest part of the trip and I haven't had a good answer but two things come to mind – leaving is hard because of all the things you think you are giving up back home and finishing is hard because of all the things you are giving up on the trip. It's a challenge in either case – right now we are looking forward to home in a few weeks but we also love this life on the water and are not ready to have a "normal" life.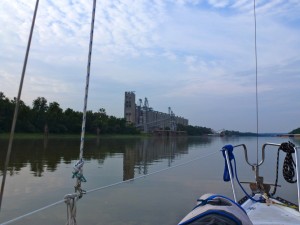 Today was much like yesterday – a couple of  bridges to have opened, a few tows to navigate around, fish jumping but not in our boat and another 50 miles done. We left a little before Carina but they soon caught up and passed us and led the way downstream to our chosen anchorage behind Willow Island. The time passed quickly – the shoreline changed gradually from tree covered bottom land to higher cliffs and plateau's all covered with green – the colors haven't started changing yet although there seem to be some browns and yellows trying to get out on the tree tops. The trip upstream should be beautiful as we get closer to Minnesota.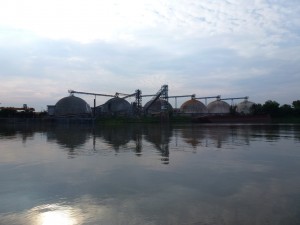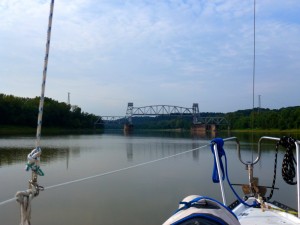 We had a nice current boost and made it to our anchorage by early afternoon where we rafted up to Carina for a little while to chat and share some more stories probably for the last time. We are going to miss our boat buddy. It has been a long and interesting journey.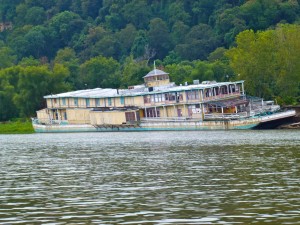 Last Call: Last time we are going to raft up with Carina