Day 377: Monday, September 16, 2013
Port to Port: Duck Island to Le Grange Lock
Underway: 6:30 am      Motor Off: 3:58 pm      Miles Traveled: 55      Stayed At: Anchor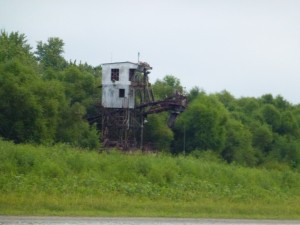 Mile 135 to Mile 80: As I am writing this the sun is setting over the river as we sit calmly at anchor with the cicadas screaming loudly along the shoreline and the low rumble of the water falling over the dam adding some white noise to make sleep easy and quick (as if we need help). We are a day and a half from crossing our wake. We hit 6,000 miles at 12:08 pm – pretty amazing.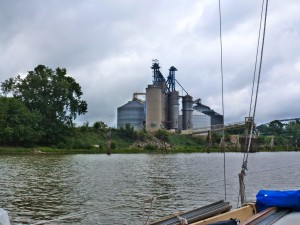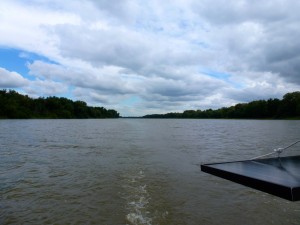 Today was another perfect travel day. The sun was shining but muted with some high clouds, we finally had a north breeze pushing us southward toward Grafton and the Mississippi River and we only caught one fish today. Cindy survived this one in much better shape than the last two. We are in "river mode" where we travel as far as we can when the conditions allow it. The scenery is repetitive and the towns small and far apart. Not too many destination stops on this stretch of the river.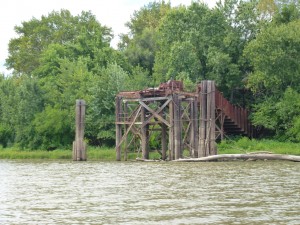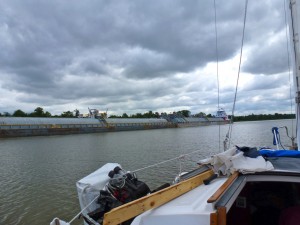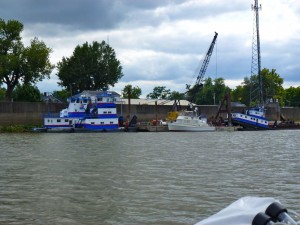 We passed by Sun Gypsy who was tied up to an old barge near Beardstown and one other large powerboat we have never seen passed us in a hurry to get some where. Otherwise the river was quiet and calm. We were planning to anchor behind another island (hopefully with some water behind it) but Kent called us on the phone and suggested going farther down to anchor on the bottom side of the Le Grange Lock in the pool below the dam. Sounded like a great idea to us, so we motorsailed another 5 miles south to a nice reunion and a great anchorage.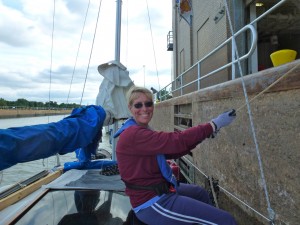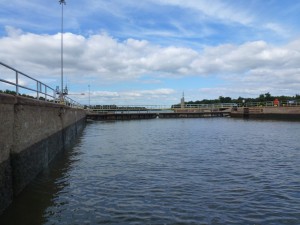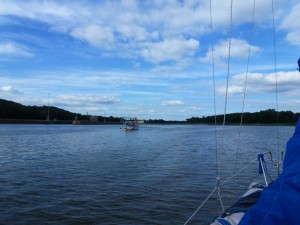 After chatting awhile we made pizza on the grill (recipe from Carina) and relaxed on a beautiful evening thinking about the end and beginning coming up in a couple of days. We will be saying goodbye to some of our Looper friends and setting off on the last leg of our trip up the Mississippi (if the current isn't too bad) to get the boat and us home before the leaves fall off the trees. Wish us luck.
Last Call: Last lock on the Great Loop – Le Grange Lock and Dam.