Day 382: Monday, September 21, 2013
Port to Port: Grafton to Timberlake Anchorage
Underway: 6:47 am      Motor Off: 3:57 pm      Miles Traveled: 40      Stayed At: Anchor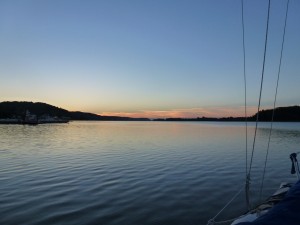 First Things First: First time going up the Mississippi.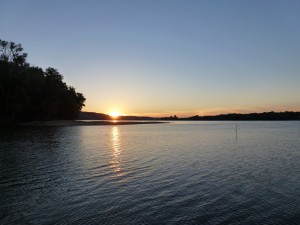 Mile 218 to Mile 258: Most of the goodbyes have been said and only a few Looper boats are still at the marina. It is an interesting position to be in where we know what lies ahead for our friends going south and we know what to expect up ahead on the Mississippi. One thing we didn't know is how slow this trip was going to be. I was optimistic (and hopeful) that we could eke out 5 mph against the current. Coming down the river, we were able to go in the high 5's towing the dinghy (before we figured out how much drag that produces). Well, we were pleasantly surprised when we hit the Mississippi a few minutes after leaving the marina and we were going 5.6-5.8 mph upstream. This was our biggest unknown for our long trip home. We were even able to add several tenths to our speed, for part of the day, by putting up the main and motorsailing during stretches of the river where the surprisingly stiff wind cooperated.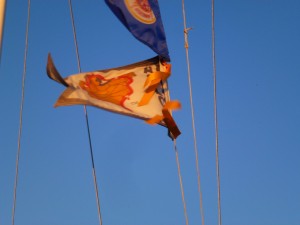 Our other challenge of this last "bonus" leg of the trip will be the locks. We lucked out big time coming down with most locks able to lock us through right away and without waiting for barge traffic. We were the only boat in the first 19 locks before we had to share with someone else. We weren't quite so lucky at our only lock today – Lock 25. Not only did we have to share with one other powerboat, there happened to be the first half of a double tow coming downstream already loaded into the lock. This process is painfully slow and it was one hour and forty-five minutes later when we finally got in and through the lock – not bad but tedious.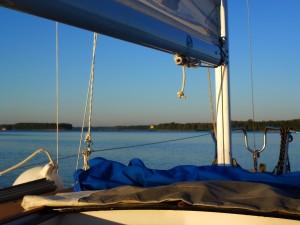 It was kind of nice to be by our selves for the first time in a long time. We have enjoyed our time with all the other Loopers but it does add new stresses to the trip. We only have to worry about ourselves right now and that makes life a little simpler. If all goes well, we are planning to do our journey down the river in reverse and stop in or near the same places as last time. We should be home, barring any weather delays or other issues, by early October. We just need to take it one day at a time.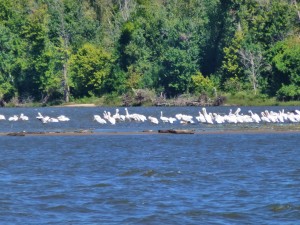 By the time we anchored across from the sketchiest marina of the trip last fall, we had flipped through almost 8 pages of the chart book. We are making progress in the right direction.