Day 381: Friday, September 20, 2013
Port to Port: Grafton, Illinois
Underway: 0:00 am      Motor Off: 0:00 pm      Miles Traveled: 0      Stayed At: Marina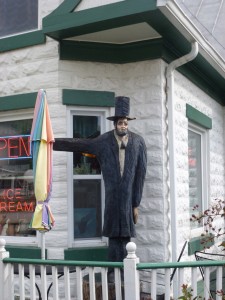 Mile 0 to Mile 0: Our Looper group has dwindled down to just a handful of boats now. It's really quiet here right now. Cindy and I did a few boat projects so we would be ready to leave tomorrow morning and I worked on catching up on the blog. Since this is Bucket List's home port, they have access to a vehicle – a very practical and handy minivan. They asked if we wanted to do a run to Walmart and the Farm Store and we decided to join them and Barefoot'n mainly just to spend a little more time with them. The girls hopped out at Walmart and we made stops at a Dollar Store (for some Awesome), a farm store (for 20 gallons of oil so Barefoot'n can change their oil – yikes) and a "we sell everything you can imagine including guns and ammo" store just to look around. By the time we got back to Walmart, the girls were ready to go. We could have gone down to Alton again to go out to lunch with them but we decided we needed to wander around town a little before we left.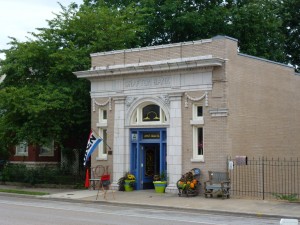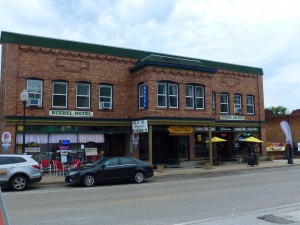 One of the things we remember from the last time we stopped in Grafton was a small shop selling fresh fruit and veggies just across from the boat landing. We were so happy last time to get a large bag of honeycrisp apples without having to get jobs to pay for them. We did the same thing this time – they were the best we have had this year and only $1.69/lb. We have enough to almost get us home.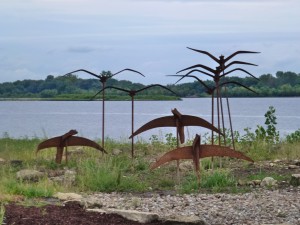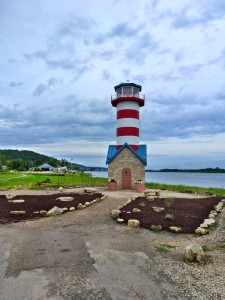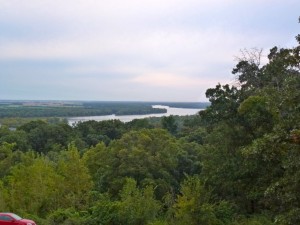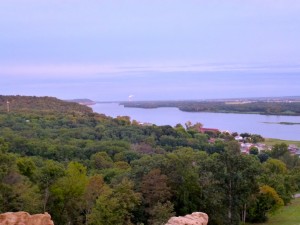 Grafton is a pretty typical river tourist town – a handful of restauraunt/bars touting their riverfront decks, too many antique shops, a gas station, an odd mix of gift shops and more than a few empty shops for sale or lease. One unique draw is several nearby winerys offering tours, wine tasting, zip lines and whatever else they think people will spend money on. From what we hear, the town is busy on the weekends, especially between Memorial Day and Labor Day.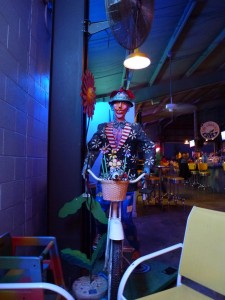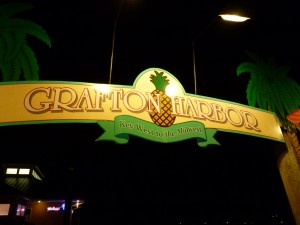 It is surprising how resilient these river towns are in the face of bad weather, difficult economic conditions, floods and drought. This year, someone was telling us that the river boating season didn't really start until early August after the flood waters finally receded from the major flooding this summer. Now that is a short season.
Larry and Cindy from Bucket List invited us, Shell Seaker and Barefoot'n along on a little sightseeing expedition up the hill behind Grafton to an overlook by the Aeries Winery where you can get a bird's eye view of the confluence of the Mississippi and Illinois rivers with Missouri across the rivers in the distance. What an amazing view! The clouds that were around all day started clearing just in time and the sunset was one of those that keep getting better and better until it finally gets dark. It almost made me want to pay $60 to try out the zipline course running through the winery and between the hills overlooking the river valley. Next time I guess since tomorrow we leave, first by traveling a little farther south on the Mississippi River until it finally swings around and takes us mostly north towards home. What a strange thought – home.