Day 388: Friday, September 27, 2013
Port to Port: Muscatine to Le Claire, Iowa
Underway: 6:26 am      Motor Off: 3:01 pm      Miles Traveled: 42       Stayed At: Free Dock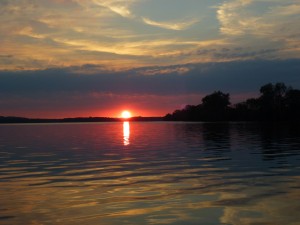 First Things First: First time getting to lock through an auxiliary lock.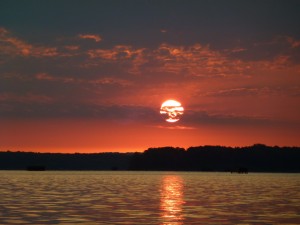 Mile 455 to Mile 497: I love traveling in the early morning (Cindy tolerates it) – the air is cool, the sunrise ever changing and the river is calm (usually). We were up especially early today. I was walking up to the gas station to fill our last container and get a coffee by 6 am – it was still dark out. Our first lock is only a mile away and we want to get through it first thing if we can so we called them on phone to see what was happening. It turned out that our timing was perfect. A tow was just getting done coming down and as soon as they were clear, we could sneak right in. We cast off and boogied down there just as the tow was leaving and we were ready to go up in minutes. It was especially nice of the lockmaster to call us back on the phone as we got closer to tell us to move over to the green side to allow the tow to pass easily – that was above and beyond the call (especially because it was still a little dark out).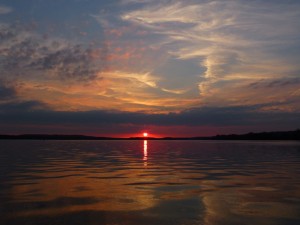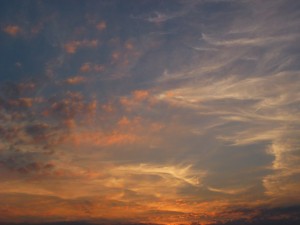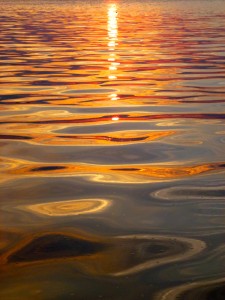 We were rewarded for our early morning start with one of the best sunrises we have seen this entire trip. As we came around the corner, past a point of land outside the lock, a huge red/orange fireball surrounded by wispy purple and blue grey clouds greeted us. I took 20 or more pictures trying to capture the moment but they can't do it justice. We were even treated to the sight of a bald eagle swooping across the sun heading off to find breakfast somewhere along the river. Another one of many Great Loop moments to remember.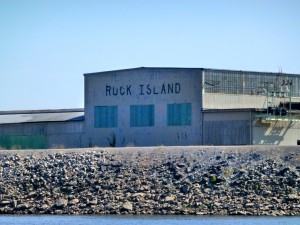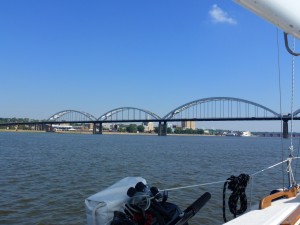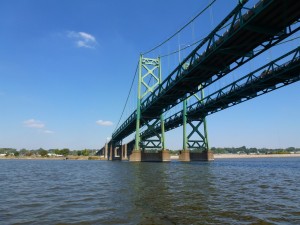 Our weather luck held out again with warm sunshine and a favorable breeze. Except for the three locks we went through, we were able to motorsail on a beam reach most of the day. Amazing. We also lucked out with the locks. We thought for sure it would be a two or three hour wait at the second lock because there was a part of a tow sitting at the lock and another one was coming up a little way behind us. We were pleasantly surprised when the lockmaster said he would take us through the auxiliary lock – a first. The third lock was also ready for us when we got there. We couldn't have asked for a better day.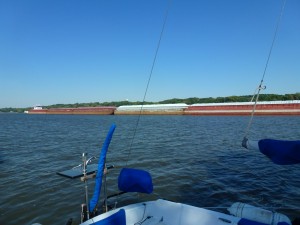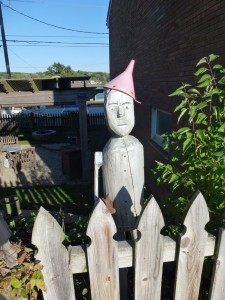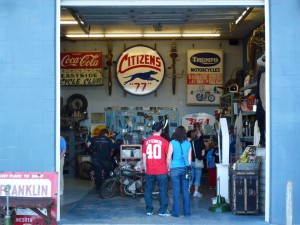 We arrived mid-afternoon in LeClaire, Iowa – home of Antique Archeology and the TV show American Pickers. This is a clean, vibrant touristy town. We didn't have much time to visit when we stopped last fall – it was one of the few really rainy days of our trip. The weather may be a little boisterous tomorrow so we might stay an extra day to shop and explore.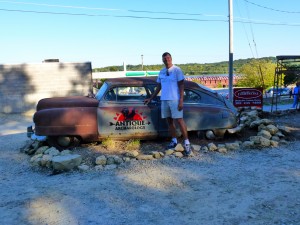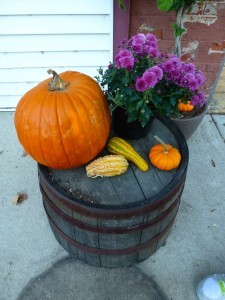 After securing the boat and getting gas, we wandered down to the Antique Archeology Store to look around – they are building a nice new building right next door so they must be doing pretty well. We were too lazy to cook so we found some amazing hamburgers (why is it so hard to get a good hamburger) at Sneaky Pete's. We could even see Aurora at the town dock from our table.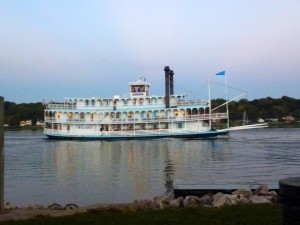 Although we are traveling alone on the river, we are not lonely. We are trading texts with our friends traveling south and hearing fun stories about their travels and have been able to email and call home regularly. It makes the river a little less remote and home a little closer. We will pass the halfway mark up river on our next travel day. Wish us luck.