Day 387: Thursday, September 26, 2013
Port to Port: Oquawka to Muscatine, Iowa
Underway: 6:53 am      Motor Off: 3:09 pm      Miles Traveled: 40      Stayed At: Marina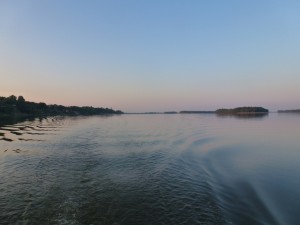 First Things First: First time using our newly gifted 12v fan in the cockpit while underway (thanks Kent and Jane).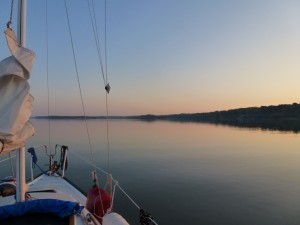 Mile 415 to Mile 455: It's HOT! Who would have guessed in late September we would be traveling in shorts and t-shirts and still sweating in the afternoon. It was 86˚ in the cockpit today and it felt a lot hotter when we got to the marina. (We are not complaining, though, just pleasantly surprised).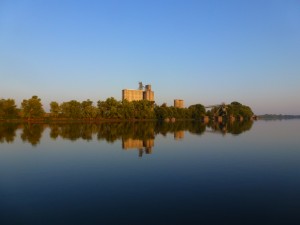 I forgot to write about a memorable experience we had yesterday late in the day. It was a reminder that no matter how quiet it seems on the river, you still have to be alert and cautious. We were a couple miles above the lock heading for Oquawka and I could see a couple of tugboats off in the distance – one right behind the other. Not to worry as we were off on the red side of the channel and they should pass us easily on our port side – no barges to worry about. As they got closer I adjusted my course even farther over to the red side as they seemed to be cutting the corner kind of tight. Tugboats without barges to push go a lot faster so we were closing quicker than usual. Every time I turned a little more right, the tugboat kept aiming right at us. I finally took off at a right angle to get out of the way but it was a close call. It was especially disconcerting to look into the bridge windows of the lead tug and not see any people. It turned out a smaller tug was pushing a bigger tug downriver and I don't think the "captain" even saw us until we passed by his port side. I was not a happy camper. I'm sure we showed up on his radar but you have to look at the radar to see anything. It was a definite wake up call to take nothing for granted on the water.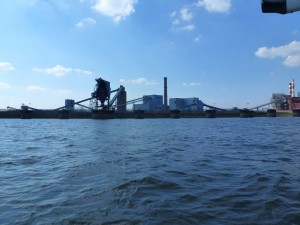 Today was a lot like yesterday – hot, light breeze and lots of sunshine. We left our perfect anchorage at sunrise and headed north again. Even though we "only" had 40 miles to travel today and one lock, for some reason we were exhausted when we got to Muscatine. Thankfully we got in early enough to get our boat projects done and still have time to explore and go out to eat. After getting gas and putting everything away, we wandered up to a combination Mexican deli/grocery store that popped up on Google Maps. The store was a little sketchy looking but we liked the guy who greeted us when we walked in and decided to stay and have some authentic Mexican food for dinner – it's too hot to cook. We enjoyed the food and service – a lot more interesting experience than eating at a chain store.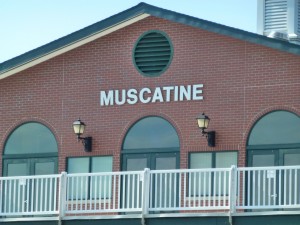 Even though the sun was getting low in the sky, the days heat was still radiating from the brick walls of the buildings. Lots of people and kids were outside on their steps or hanging out on the sidewalks. This is definitely a working class town just trying to scratch out a living on the edge of the Mississippi River. We found a Hyvee Pharmacy nearby and went inside to waste some time and found a full service grocery store inside including a meat counter and fresh fruits and vegetables. A welcome discovery since we needed a few things and the closest grocery on Google Maps was several miles away. We stocked up on a few essentials and walked back to the boat sweating all the way. We shared a pint of cheap cookie dough ice cream (we're thinking of you Eddy and Linda) and relaxed and read before calling it another amazing day on the Mississippi River.
FYI – Cooking: We have a pretty slick system for cooking. We are using the same cook kit I made for our trip in 2002. I mounted a standard Coleman camping stove on the removable top to a medium size cooler. There is a small air gap under the stove and I put a piece of fireproof cloth (used by plumbers) under there to provide a little insulation from the heat. We store all our pans, dishes, silverware and cups in the cooler. I just lift the top off and set in on the cockpit seat, attach the propane tank and we are ready to cook. There is a place for everything and everything in its place. We can even bake muffins, cupcakes, rolls and pizza in a camper oven that we have with too. Cleanup is easy. We just heat some water, add soap and wash the dishes in the cockpit. Everything goes right back into the cooler. We have been lucky to have nice weather most days when we need to cook – we have been forced to have cereal or crackers and cheese, inside the salon, only a couple of times in the past year because of wind or rain.