Land of the Train
Day 392: Tuesday, October 1, 2013
Port to Port: Dubuque to MM 627
Underway: 6:46 am      Motor Off: 5:39 pm      Miles Traveled: 47      Stayed At: Anchor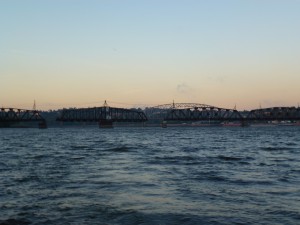 Mile 580 to Mile 627: We left our slip at the loneliest marina of our trip and headed north again at first light. We had to wait for a truck to move off the railroad bridge and made it through the lock a couple miles later without delay. Two barriers down and only one more to go later this afternoon.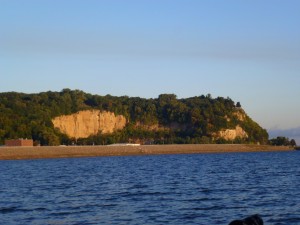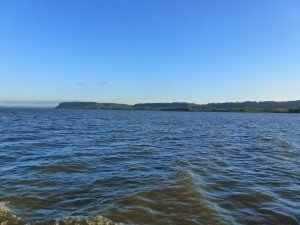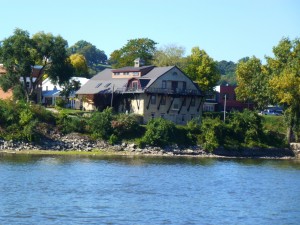 It's becoming a broken record but we again had wonderful travel conditions. The nice steady west wind would have been perfect but we spent most of the day going generally west, right into the wind. We are in a section of the river which takes a big bend east and then bends back west before heading north again. We sailed some in the morning but couldn't pinch the sail enough to make it worth it in the afternoon.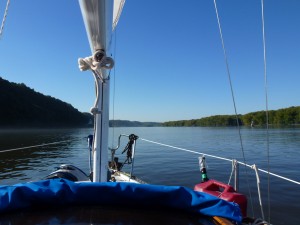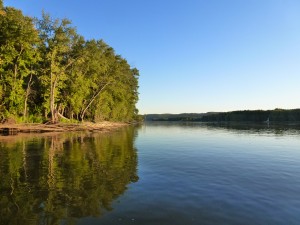 Our only stop today was in the little town of Cassville to fill up a gas container. A nice old guy who just pulled his well used jon boat from a morning fishing offered me a ride to and from the gas station about 4 blocks away. An always welcome gesture. It won't be long now that I can stop worrying about keeping all the cans full, just in case, because the towns get closer together and bigger as we get closer to Minnesota.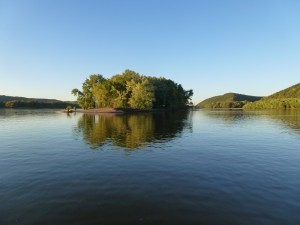 We are reminded that we are in the land of the train along the Mississippi River. One is going by not to far to the east as I am writing this. Between the time we anchored and finished dinner we counted 5 trains going by. You better love trains if you live in any of these river towns. They blast their horns day and night.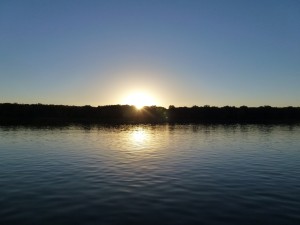 It took us a few tries to find a deep enough spot to anchor. Coves or channels that look good on the chart often are filled with trees and logs or are too shallow to get into. We found a perfect spot on our third try and enjoyed steaks on the grill with fried red potatoes and salad for dinner as the sun disappeared behind the tree covered hills to the west. We are excited about getting home but thoroughly enjoying our bonus trip up the Mississippi River.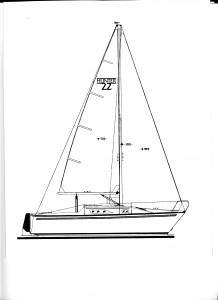 FYI – The Boat:  Aurora is a 22' Hunter sailboat built in 1981. She has a draft of 2.5 feet with the centerboard up and 5 feet with it down. Her beam is 7'11". She has a displacement of 2,200 pounds (without all our junk) and has 1,300 pounds of lead ballast (I should have removed a couple hundred pounds before we left). She was built in a time when they built these small boats to look like mini-cruisers. A nice teak bulkhead separates a surprisingly spacious V-berth (I can sleep their fully stretched out at 6' 5" and still have a few inches to spare). Decorative teak slats run horizontally along the backs of the port and starboard settee's. A fold up teak table sits in the middle of the salon on top of the centerboard trunk. Two long quarter berths provide lots of storage for extra food bins on the starboard side and a comfortable sleeping berth for me on the port side. There are 13 large storage compartments under the V-berth, settee's and in the cockpit. For our 2002 trip, I added a SS arch on the stern to mount the BBQ grill and to attach and tow the dinghy from. I also added a small teak swim platform on the port stern side. Lots of plastic bins and storage containers mounted on the teak slats provide a place for everything we use regularly. We power everything off two 12v deep cycle batteries charged by an alternator in Boris and our handy little solar panel. Our little home away for home is small we I can't say we have "suffered" living in our cozy home the past year.