Another great (and slightly crazy) adventure will soon be underway. One of my bucket list items is to ride bike across the country. Hell if I know why but this idea has haunted me since I first tried it in 1976 by participating in the Bikecentennial – a 4,229 mile bike route from Astoria, Oregon to Yorktown, Virginia. I made it across Oregon before getting home sick and going home. I've regretted that decision ever since.
Until recently, Cindy and I were still trying to figure out what to do with the next 30 years of our lives after our Great Loop trip and RV adventure out west. When I dropped the idea of riding bike across the country on Cindy a couple months ago it was still snowing out and we had a hard time getting motivated to go for our daily walk. I'd like to say she jumped on the idea enthusiastically but actually she laughed hysterically. -  I think she almost had tears in her eyes. Surprisingly, though, she didn't say no (or hell no) or call the psych ward. She actually listened to the idea. By the time negotiations were complete the new adventure morphed into a 2,800 mile journey that would start at home and stretch across Minnesota, North Dakota, Montana, and Oregon before heading down the coast to visit Jessica and Andrew in San Francisco, California. Just think how cool it will be to ride across the Golden Gate Bridge after riding half way across the country. Half of a bucket list adventure is better than no adventure at all right?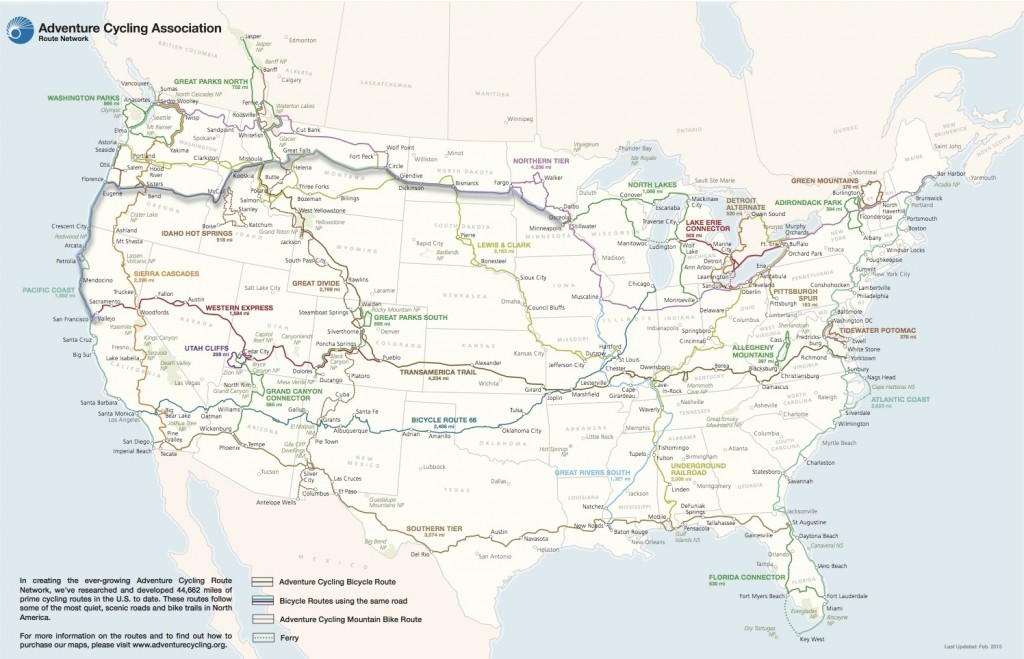 The trip will include the following legs starting in Mound, MN and ending in San Francisco, California in late July.
Mound, MN to Albany, MN (91 mi.)
Albany, MN to Fargo, ND (149 mi.)
Fargo, ND to Dickinson, ND (351 mi.)
Dickinson, ND to Great Falls, MT (499 mi.)
Great Falls, MT to Missoula, MT (168 mi.)
Missoula, MT to Baker City, OR (419 mi.)
Baker City, OR to Eugene, OR (333 mi.)
Eugene, OR to Crescent City, CA (473 mi.)
Crescent City, CA to San Francisco, CA (412 mi.)
Lots of obstacles had to be overcome including getting a different bike for Cindy, making or buying the necessary bike touring gear, training, getting in better shape and ignoring all the reasons a trip like this is crazy. Even though I have no doubt Cindy thought I was insane, she started making lists, worrying about everything on the list and threw herself into training. One major concern she had was whether her knees would be able to handle the stress of a trip like this. We were hoping they would get better and stronger with the training. But after lots of hours on the stationary bike and some long road trips, it was clear that, although she could probably handle the physical part of the trip if we limited mileage to 40 or 50 miles a day, she would be in pain most of the time. That is definitely not worth it.
This was a huge obstacle for me too. I was looking forward to sharing this adventure together. Surprisingly, the hardest part of this type of trip is the mental part of it – getting up everyday and pedaling some more even if you're bored or cold or wet or lonesome. Two people suffering together is a lot more fun.
As I write this prologue, Cindy is staying home and actually ended up getting a job as a call center nurse at the University of Minnesota. The good thing is it will only be a few days a week with normal hours and no unpaid overtime (and no doctors) – the bad thing is a long commute again. She will no doubt stay busy working, taking care of the house, watching out for the Grandmas and, hopefully, sending out care packages so I have something exciting to look forward to along the way while I try to pedal my way to the Pacific Ocean and a reunion sometime in late July in San Francisco.  I can't wait. Wish us luck.  Mike and Cindy