Day 1: Wednesday, May 27, 2015
Stop to Stop: Mound, MN to Stanley Eddy Memorial Park near French River, MN
Underway: 10:00 am   Off Bike: 3:55 pm   Ride Time: 4:22 hrs   Stayed At: Free Campsite
Miles Traveled: 55.1    Total Miles: 55.1     Weather: Sunny and warm
First Things First: First system failure – rear panniers fell off 30 seconds from home. My heal bumped them because I put them on the wrong sides –easy fix thankfully: First wild animal – a doe deer on the Dakota Rail Trail: First dog race – I won: First free campsite: First tail wind – one of many I hope.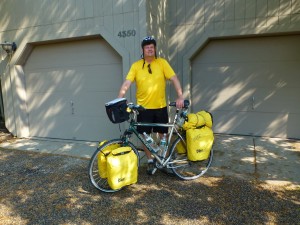 Mile to Mile: Finally after months of planning, stress, worry and excitement, I left home headed west toward San Francisco, CA. After a short false start (see above) I headed down the road with Cindy in the lead as usual. The first 20+ miles was a perfect way to start this adventure – no cars, lots of shade and Cindy came along for the first 9 miles to see me off – at least until dinner when she met me again at my campsite. And brought dinner – meat loaf, baked potato, scalloped corn and other treats. Thank you dear. Amazing.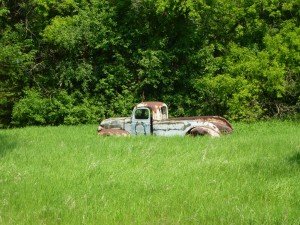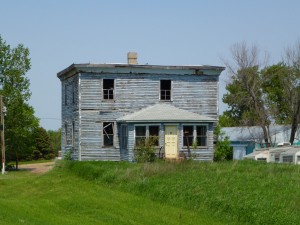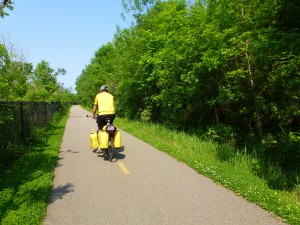 The trip north to Stanley Eddy Park (reminds me of someone we spent many wonderful hours with on our boat trip – get it Eddy?) was uneventful until the last 5 miles of gravel road mixed in with short steep hills. It just so happens that the park is the highest point in Wright County. But's it's free right? My campsite is primitive with lots of trees, a picnic table and more than a few flies and other bugs. We had a great dinner and icees for desert. Cindy even brought me good water from home to fill my water bottles.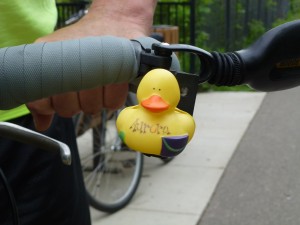 Everything worked very smoothly – especially for a first day. It was definitely a photo worthy day. I'm looking forward to seeing what tomorrow will bring. Hopefully fair weather and favorable winds.