Day 14: Tuesday, June 9, 2015
Stop to Stop: Jordan, MT to Hill Oasis Ranch
Underway: 6:55 am    Off Bike: 12:30 pm  n Ride Time: 4:13 hrs    Stayed At: Ranch B&B
Miles Traveled: 52.8    Total Miles: 933     Weather: Sunny, warm with NE breeze
First Things First: First antelope race; First trees in Montana; First B&B rest stop.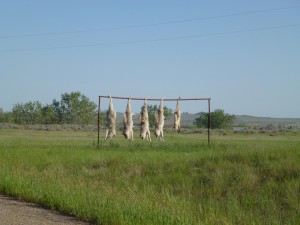 Mile to Mile: Today was planned as a "short" 53 mile day to the Hill Ranch Oasis B&B – they allow cyclists. Actually they love to have them. After a late start around 6:55 am, bright sunshine with clear blue sky's greeted me. And a gentle NE breeze to help me along and kept me cool. What a gift – lets peddle.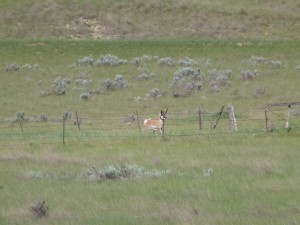 The terrain quickly changed from the steep uphills and short downhills to long gradual climbs with long, amazing downhills. My terminal velocity (and when I started braking) was 30.2 mph. Things happen fast at 30 mph so I am trying to keep it in the 26-28 mph range. But it is a blast watching the scenery (and miles) fly by.
Speaking of things speeding by. As I was accelerating down another glorious hill I was startled by movement on the other side of the road. It's…a…big…xz!?…antelope. Less than 20 feet away racing me down the hill. I was going 20mph and he hardly looked like he was trotting. He crossed the road in front of me and ran along the fence line looking for an opening. After a few minutes I stopped to get the camera out hoping he would stop. He found an opening finally and headed off across the range. It was worth the entire day of brutal headwinds the other day just to get here to see that.
The miles ticked by quickly and I soon found myself at the only civilization before the B&B – Sand Springs – where, even though I was going 20 mph, I stopped to take a break and re- sunscreen. I used the Internet at the convenience store to send a couple messages home and happily hit the road again.
It's amazing how fast things can change at only 12 mph. I was cranking up a hill and looked up and saw…TREES! Pine trees! Lots of them. I am now in the Montana of my dreams. The sight and smell almost brought tears to my eyes. I hope it lasts for a while.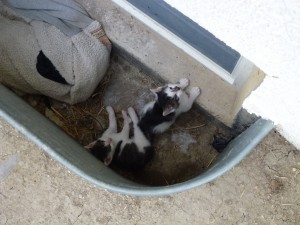 The turn off to the Hill Ranch B&B was at the end of a two mile downhill stretch and I soon found out why it has "Hill" in its name. The steepest hill yet laid between me and relaxation so I cranked up almost losing traction and soon found myself, sweaty and tired, meeting Delores, the owner and her son Kevin and wife Gala. I get to sleep in a real bed tonight. And have pork BBQ. And do nothing in cool air conditioned comfort.
Dinner was amazing. Great conversation. I felt part of the family. Hey Grandama A – she has a blue plate collection just like yours, the same kinds of carved chairs and knows the difference between ebleskivers and pancakse. I'm beginning to really like this Big Sky Country.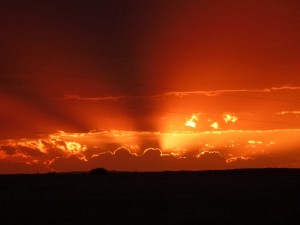 In Passing: Dugout Coulée, Rattlesnake Butte, Castle Butte, Sand Springs, Big Dry Creek