Day 13: Monday, June 8, 2015
Stop to Stop: Circle, MT to Jordan, MT
Underway: 6:30 am    Off Bike: 3:30 pm    Ride Time: 6:20 hrs    Stayed At: Park
Miles Traveled: 69.1    Total Miles: 880.2    Weather: Sunny, hot and dry
First Things First: First rattle snake (road kill); First sunburn – missed a couple of critical spots with the sunscreen.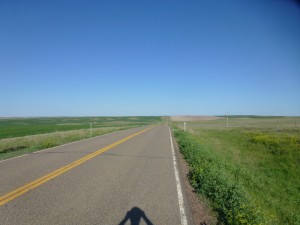 Mile to Mile: Today was a work day – it's all about the miles. The scenery is beautiful but there is a lot of it so I need to keep moving when conditions are good. After the painful wind yesterday, I decided to improve my odds and leave really early when it is cooler and less windy. I was gone by 6:30 am even though I took the time to make hot chocolate and scrambled eggs. There is something satisfying to have 25+miles in the bank before 9 am.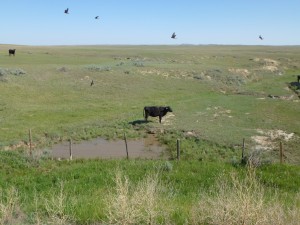 The terrain started changing from flat , broad grasslands to more hills and valleys with a few cows roaming around trying to find something to eat. I started seeing lots of sagebrush and some type of yucca plant. Mostly just vast expanses of dry grassland in all directions. The changes made for some interesting riding – lonely but interesting. It's hard to meet people zooming by at 70 mph. This is some of the most rural areas in the country. From Jordon, it is at least 70 miles in any direction to another "town". The only break today was a brand new wayside rest ,in the middle of nowhere, at about mile 31. A real Oasis with AC, cold water and clean bathrooms.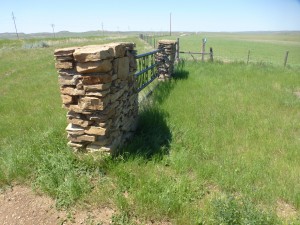 I finally rolled into Jordon a tired, hungry, sun-baked and grubby old man. I had a nice cold drink at the gas station – feeling a little better. Found the grocery store and stocked up – things are looking up. Noticed the town pool (lots of kids running around in swimsuits) and had a free shower – life is getting good. Found the town park and set up my tent in a shady spot. What more is there you ask. A lot more actually. I stopped by the sheriffs office to ask about camping and met Amari – the under-sheriff here. She said camping was not a problem and she even let me use her phone to call home to arrange a mail drop and to arrange a stop at a ranch tomorrow. Thank you Amari – you made my day. My day ended like every day from now on will (if I can find them again) with a f'real strawberry-banana smoothie from the grocery store. Life is good in Jordon, MT.