Day 15: Wednesday, June 10, 2015
Stop to Stop: Hill Ranch Oasis to Lewistown,MT
Underway: 7:45 am Off Bike: 4:30 pm Ride Time: 6:42 hrs Stayed At: Campsite
Miles Traveled: 85.8 Total Miles: 1,018.8 Weather: Overcast, cool, NE wind
First Things First: First 1000 miles (woohoo!); First cattle drive; First mountain pass (4,789 ft); First bald eagle.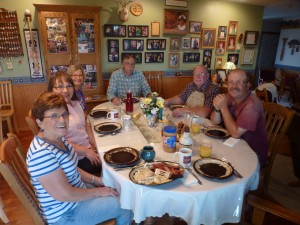 Mile to Mile: Even though today's ride was mostly uphill – I gained over 1,500 ft of elevation from Mosby near the ranch to my first pass – it seemed almost effortless (until the 5 miles just before the pass which made me sweat). It didn't hurt that I started with a good old farmers breakfast of eggs, bacon, Montana sourdough pancakes, coffee and juice ( thanks again Delores and everyone for taking such good care of me). I flew down the hill from the ranch and, within minutes, ran into my first cattle drive. They were moving a small herd of cows and calfs to a new pasture near the ranch right up the road. I have cow manure on my tires to prove it. The cows didn't know what to make of me but I passed through slow and took pics and a movie.
It also helped to have a gentle but welcome tailwind pushing me along. I was able to sustain steady speeds of 15-18 mph for long stretches. I had a nice rest at the ranch too. I was able to bank 50 miles before noon. Seeing the first mountains of the foothills of the Rockies motivated me to peddle a little faster too. After a long 5 mile climb up and over my first pass, it was a well deserved 3 mile glide down into and through Lewistown. On my way into town I met a couple more east bound riders – Caroline and Andy from London, England. They were still planning to ride another 40+ miles because they had gotten started late. It's always nice to see how many people from other countries are out riding across the U.S. Good luck on your journey, guys. I wanted to keep going to do my first century but the next available camping was over 30 miles away – doable but not really worth it.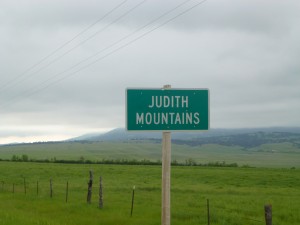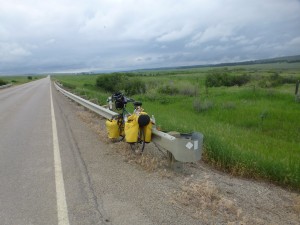 After getting a few essentials, I ended up at a small Kiwanis run campground/rest area. I'm glad I stayed because this is a perfect spot to stay for the night. I had a great visit with some volunteers planting some plants and making the park just a little bit nicer. It is so exciting to be in the foothills of the Rockies already. Time just seems to be flying by. Montana has been kind to me so far and I can't wait for what tomorrow will bring.