Day 22: Wednesday, June 17, 2015
Stop to Stop: Lochsa Lodge in Powell, ID to Syringa, ID
Underway: 7:20 am    Off Bike: 4:30 pm    Ride Time: 4:35 hrs    Stayed At: Campsite
Miles Traveled: 73.2      Total Miles: 1,521      Weather: Sunny, warm, calm
First Things First: First time traveling with other bikers; First time swimming in a mountain stream; First fire in a fire pit.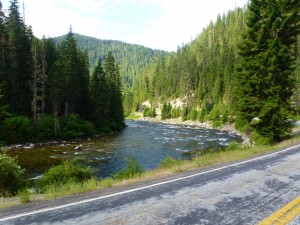 Mile to Mile: It's fun to be traveling in this area because there have been lot's of other bikers around on the road and at camping spots. I met 3 other bikers at the lodge who have been traveling west bound for a few days – just long enough to give each other trail names. Cheese, Clown Shoes and Self-Proclaimed Dragon are from different parts of the country and traveling different routes to get to this place at this time.
After breakfast at the Lodge I headed out first and promptly got my second flat 1.6 miles from the Lodge. Another piece of invisible tire wire. It's a little tricky fixing a tire on the edge of a road with no shoulder but I got it down and kept on pedaling downstream….for 73 miles along the Lochsa River – picture postcard scenery the whole way. Although you still have to pedal because the grade is so shallow, the journey was about as good as biking can get.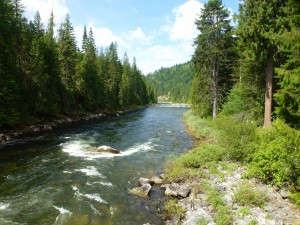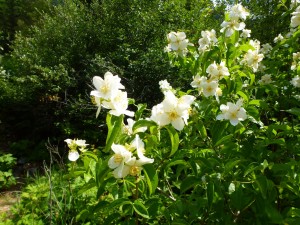 We all met up at a campground in Syringa and lazed around the fire until it was time to crash after another day's hard work on the road less traveled. You never know what the day will bring but that is part of why this type of travel is so appealing. Everyday is an adventure.