Day 21: Tuesday, June 16, 2015
Stop to Stop: Missoula, MT to Lascha Lodge in Powell, ID
Underway: 7:45 am    Off Bike: 1:45 pm    Ride Time: 5:00 hrs    Stayed At: Campsite
Miles Traveled: 58.3    Total Miles: 1,447.8    Weather: Sunny, calm
First Things First: First time in Idaho; First time in Pacific Time Zone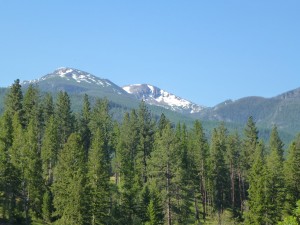 Mile to Mile: Somehow the ingredients came together today for the perfect biking day.
Ingredients:
• Sunny blue skies with puffy white clouds added for flavor
• Low humidity
• Light to calm winds
• Limited traffic
• Windy mountain road
• Easy upstream climb, short grind to the pass and fast race to the finish
• Stunning scenery with a hint of pine
Mix together for five hours at between 78 and 82 degrees taking frequent breaks to take pictures and sample the recipe as it gets better and better with age. Enjoy!
Today was the reason why bicycle touring can become addictive. You work hard for days like today and want to savor them. I left Missoula, fueled by homemade banana bread (thanks Cindy) and Bigga Pizza for breakfast and started south and west following the Lolo River upstream. The grade was so easy that I could peddle at a consistent 12-14 mph paralleling this beautiful, blue stream rushing it's way past me downhill to Missoula. The last four mile climb to the top of Lolo Pass wasn't even that bad since I knew, on the other side, I could expect an exciting 6 mile ride down a windy road following the Lascha River downhill towards the Pacific Coast.
I quit early to stay at the beautiful Lascha Lodge – they let bicyclists camp for free behind their little store. Plus, except for a couple camping spots, the next place for services is 66 miles down the road. As I am writing this, a light breeze is keeping me cool in the shade, I am surrounded by pine trees and I can't wait to have a leisurely dinner at the lodge tonight. The only thing better is if I could share this day with someone- the Lascha Lodge is only a 25 hour drive straight thru dear. Should I stay an extra day and wait for you?
In Passing: Lolo, Fort Fizzle Site, Telephone Butte, Bear Creek, Bitterroot Mountains, Rocky Point, Parachute Hill Road