Day 33: Sunday, June 17, 2015
Stop to Stop: Florence, OR to Bandon, OR
Underway: 7:15 am    Off Bike: 4:15 pm    Ride Time: 6:06 hrs    Stayed At: Campsite
Miles Traveled: 71.3     Total Miles: 2,412.2     Weather: Overcast, foggy, cool, mist
First Things First: first time trying salmon berries (some local bikers were picking berries along the road side and shared a couple with me – they look like bunches of fish eggs.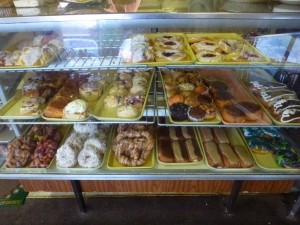 Mile to Mile: After a peaceful nights sleep at Honeyman State Park I finally got to start heading south toward San Francisco. I've got to reset my temperature expectations since the normal high temp on the coast in Oregon is the high 60's. Brrr. I sent my fleece home to save weight and space. Along with the much cooler air, fog is also a constant companion rolling in and out depending on how far inland you are or your elevation. Although it threatened rain almost all day, I only had to deal with a few drops here and there – not even enough to get the road wet.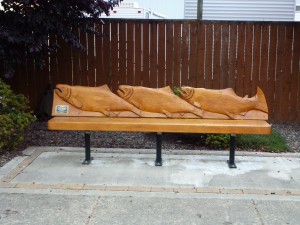 One of the best deals on this trip is the special hiker/biker program offered by Oregon State Parks (and CA I hear too). All state parks have special areas set aside for people hiking or biking in where they can camp for $5 a night. No reservations needed. And they won't turn you away. It's nice not having to worry about having a place to stay when sometimes, in the morning you don't know where you'll end up.
Except for the difficulty in trying to stay a comfortable temperature – I was warm going up the hills and cold going down, the riding was noisy but doable. I have never seen so many campers and big motor coaches in my entire life. Millions of dollars worth of "camping" gear passed by me every hour. I took a scenic tour of Reedsport and found one of the best bakeries ever at the Sugar Shack. One of everything please.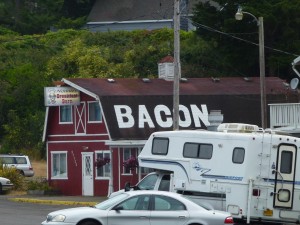 The Adventure Cycling route took us off 101 for the afternoon following a quieter route along Seven Devils Road and Whiskey Run. Can you guess which was more fun? Seven Devils was a series of seven steeper climbs up over a pass before sending us back down to sea level. Some biker even labeled each devil for us by writing Devil # 1 … Devil # 2 …etc. The ride down was amazing though, along a narrow, twisty, almost tunnel like road surrounded by trees crowding in from both sides.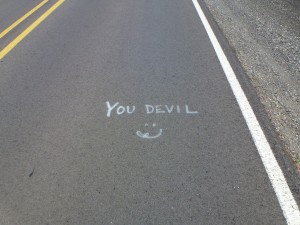 One thing surprising about the day is I didn't get a clear view of the ocean until I actually walked 1 mile from my camp site to the beach. The road goes near the ocean in places but walls of trees or huge sand dunes block your view. It was worth the wait, though, to finally see, hear and smell the ocean after so many miles of travel. It was a journey worth taking.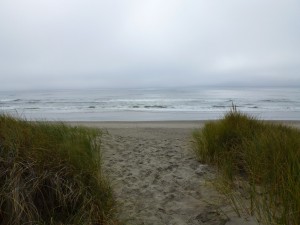 In Passing: the Pacific Ocean