Day 39: Tuesday, July 4, 2015
Stop to Stop: Standish Hickey State Park to Manchester Beach State Park
Underway: 6:30 am    Off Bike: 4:10 pm    Ride Time: 7:48 hrs    Stayed At: Campsite
Miles Traveled: 84.3    Total Miles: 2,809.0    Weather: Sunny, cool, calm
First Things First:
Mile to Mile: Although I could have taken another slacker day, the closer to SF I get the better I feel. I only have about 140 miles left to do in four days to be there the same day Cindy gets there. That feels pretty good at this point. Travel was surprisingly good for the Fourth of July. The big climb was relatively easy as climbs go – I only had 6 cars pass me in an hour and a half. I wish I could have taken a movie of part of the downhill with the hairpin turns and steep grades but I needed both hands pumping the brakes all the down.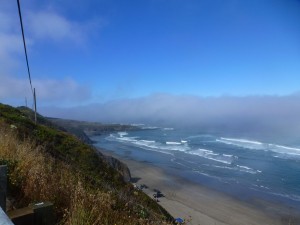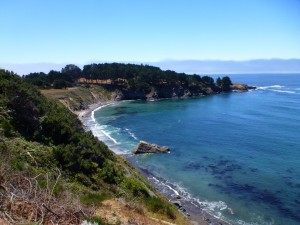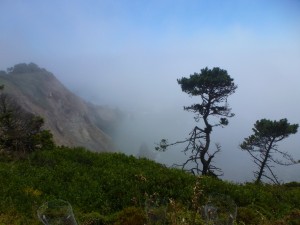 Although I had prepared myself for the big climb, I was not prepared for all the small ups and downs all the way to Manchester. I was changing gears every couple of minutes from hi to lo and back again. One of last hills was the steepest of the trip which is saying something. I made it but was hoping it was the last one for the day (it was). It was nice to pull into a quiet little campground on the Fourth of July and know I would have a place to stay. I even had time to take a nap – one of the only ones of the whole trip.
About an hour and a half after I got in Mook showed up frazzled and tired but glad to be done for the day. She actually had time to stop and check out a couple events going on along the way including a salmon BBQ raising money for a local nonprofit group.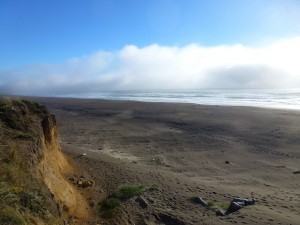 It's exciting to be so close now. I can't wait to get there.