Day 40: Sunday, July 5, 2015
Stop to Stop: Manchester,CA to Bodega Bay, CA
Underway: 6:45 am    Off Bike: 3:50 pm     Ride Time: 6:31 hrs.    Stayed At: Campsite
Miles Traveled: 70.0     Total Miles: 2,879.0      Weather: Sunny, cool, headwind
First Things First: First lizard running across the road; First seal pups resting on a sandbar; First time not finishing my pancakes – they were huge and not anything special except expensive.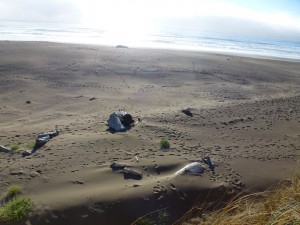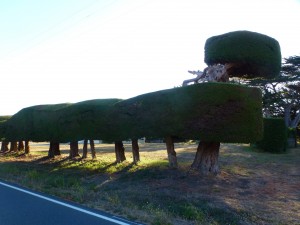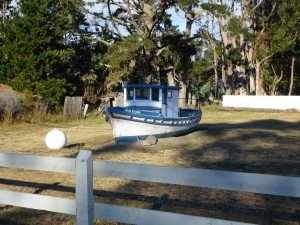 Mile to Mile: Another day in California, another nice day to travel. For some reason, even though Highway 1 winds it's way along the coast with lots of hills and sharp turns, the riding seemed a little easier than yesterday even with an annoying headwind. The challenge today was the end of holiday weekend traffic. By early afternoon there was a steady stream of cars and campers heading north and south. It got tiring and annoying because you couldn't just relax and ride without hearing another group of cars approaching. Thankfully most cars were patient and passed fairly slow and, because of all the curves, hills and traffic, they couldn't go fast anyways.
I almost decided to bailout at a state park at about 40 miles but they didn't have showers and I really felt like I wanted to get a little closer to SF. From here I am only 69 miles from my final destination. I can do several short days or even stay in the same place for two days in a row – what a novel idea. We'll see what my options are for camping and plan accordingly. If you are reading this Jess, I am really craving a big batch of nachos and a homemade strawberry margarita. How about you?