Day 41: Monday, July 6, 2015
Stop to Stop: Bodega Bay to Samuel Taylor Campground
Underway: 7:30 am    Off Bike: 3:15 pm    Ride Time: 4:25 hrs    Stayed At: Campsite
Miles Traveled: 47.9    Total Miles: 2,926.9    Weather: Sunny, warm
First Things First: First random roadside angel treats.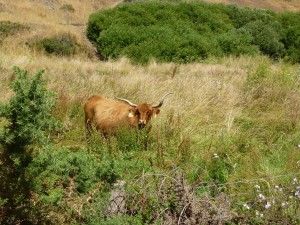 Mile to Mile: since today was going to be a relatively short day I kind of dawdled in the morning trying to decide where to go next. I had planned to continue to head down Hwy 1 toward Mt Tam but with no guarantee of a campsite that wasn't a promising. Some girl bikers camping here were heading for Samuel Taylor State Park which is only 20 miles from the Golden Gate and has hiker/biker sites. Sounds good to me. I just hoped I would have a phone signal and it was a decent park.
The trip south took me through grassy hills and valleys with some stray cows here and there. Reminds me of the Marin Headlands just a little farther south which is great for biking and hiking. Part of the route paralleled Tomales Bay which is a tidal estuary. Not as pretty at low tide but you could see a number of oyster farming operation along the shore. Traffic was light and a nice tailwind helped out occasionally but the road was rough in places, lacked a shoulder and was surprisingly narrow in places.
One of the special highlights of the trip happened as I was steadily pedaling south and noticed an older van parked along the road in a turnout. Not uncommon – people are pulled over all over the place to take pictures, rest, or just enjoy the scenery. Well, as I approached the van I saw brief glimpse of watermelon in driver side window. Ooh, watermelon.that looks so good. I bet it's cold and juicy. To my surprise the guy in the window asked if I wanted a piece. I didn't have to think about that offer very long. Yes, please. And oh was it good. And I got to wash it town with a beer and croissant. My couple of road angels were young travelers from Belgium who bought the van when they arrived here, have toured some of the coolest places in the west and are now almost down. Thank you guys, you made my day! (And a highlight for the entire trip).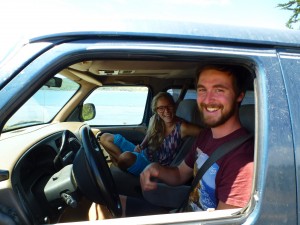 For some reason today seemed to feel longer than 40 miles. I was ready to be done when I finally spied the sign for the park. I was surprised and excited to find that the park is in the middle of a redwood forest only a couple hour bike ride from SF. The hiker/biker area is right on a small cold stream, the showers are hot ( and free) and I have 5 bars on my phone. Talk about a perfect ending to one one my last days on the road. Can't get any better than that.