Day 370: Monday, September 9, 2013
Port to Port:  Michigan City to Chicago, Illinois
Underway: 7:02 am      Motor Off: 2:12 pm      Miles Traveled: 44      Stayed At: Marina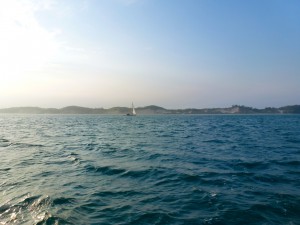 Mile to Mile: Our dash across Lake Michigan was amazing. We had perfect winds out of the east and south east which allowed us to put up the sails as soon as we cleared the breakwater and motorsail at about 6.5 mph or better for most of the journey. And best of all – no swells from any direction. Just a light ripple on the water and hazy sunshine all morning. The wind died off the last couple of hours but we still made it in to the marina early afternoon. Our last big water done. Yaaaa!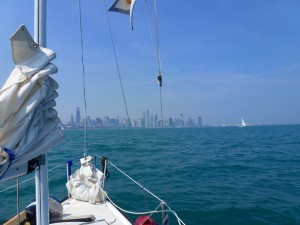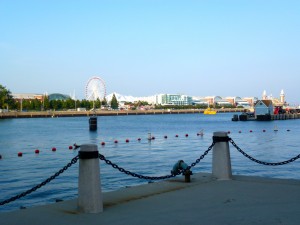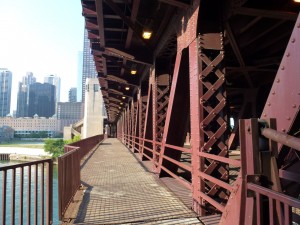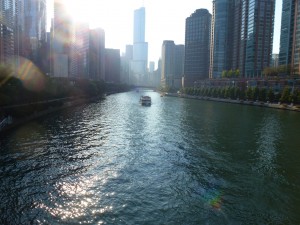 Carina peeled off about 10 miles from Chicago to go down the Calumet River to Crowle'ys Marina to get their mast de-stepped (again) tomorrow for the trip down the Illinois and Mississippi. We didn't really say goodbye – we are planning to meet up again on the Illinois in a few days.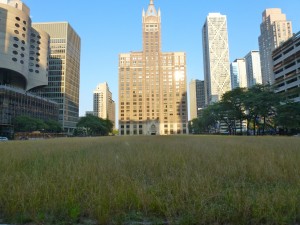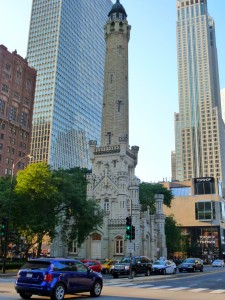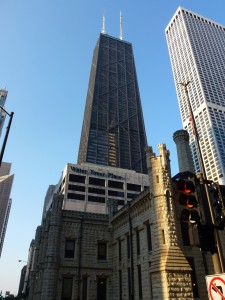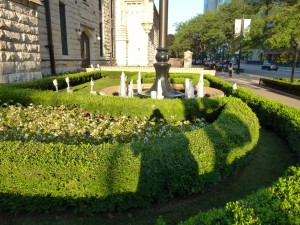 We love Chicago – the architecture, the parks, the restaurants and the water. It has always been a dream of ours to come here in our own boat and here we are. Cool. Surprisingly, this has been one of the hottest days of the year so far for us – 96˚ and humid. I can't remember the last time we had sweat pouring down our faces like this. It helped to put up the sun shade and, later in the afternoon, a nice breeze helped make it more comfortable – especially sitting out in the cockpit. We finally saw the unmistakable skyline of Chicago peak through the haze as about 12:14 pm and we relaxed a little even though we were still more than 10 miles away.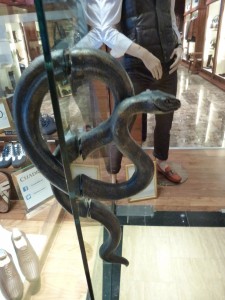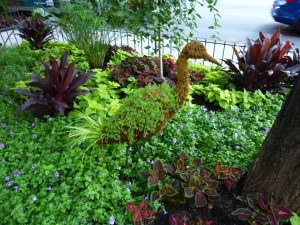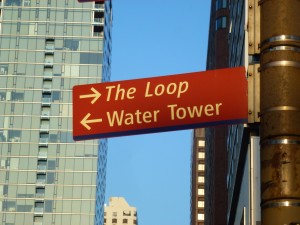 We had several choices (always choices) for mooring. We could stay on a mooring ball for $1/foot (no min) but have to dinghy to shore or us the water taxis at $4.50 per trip (ouch); stay at the wall along the waterfront for $1.50 per foot (25' min) and not have great security; or stay at the marina in a slip for $2.35/foot (30' min) plus $10/day for electricity. Decisions, decisions. We finally decided to go for the wall and got a good deal so it all worked out perfect. We are only a couple blocks from our friends at the marina and the money we save will pay for all our food and entertainment. What a deal.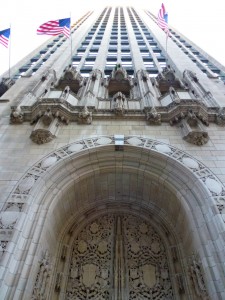 We finally got inspired to take a walk up Michigan Ave to the Walking Company Store. We have been looking for one for months close enough to the boat to get to. Cindy bought some expensive walking shoes there in Florida and within a month they started squeaking – on tile, asphalt, the grass and even the sand. Something in side failed and I could hear her walking 5 aisles away at Walmart. It would have been hilarious if it wasn't so annoying. But she kept wearing them because she felt they were helping her heal pain. Well, long story short, she brought them in and they exchanged them for new ones with out a problem. Hope they fixed the problem on these new ones.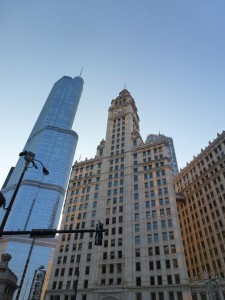 We relaxed for a while and arranged to meet our friend Bill (from Hudson Florida where we stayed last fall) for dinner. What a blast. Bill has a plan – he and Kate are future Loopers and are in the fun planning stage – finding the perfect boat, learning about the route, talking and learning from other Loopers and just dreaming about the adventure. You could see the excitement in his eyes. We shared a lot of Looper stories – most of which he had already memorized from reading our blog. We were bummed that Kate had to fly back home on Sunday but we will meet again someday, no doubt.