Day 371: Tuesday, September 10, 2013
Port to Port: Chicago, llinois
Underway: 0:00 am      Motor Off: 0:00 pm      Miles Traveled:       Stayed At: Marina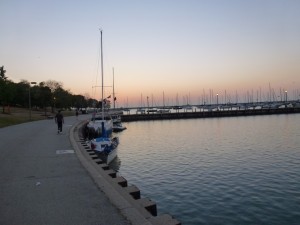 Mile to Mile: 20,000 steps and counting – today was a busy day. With only two full days planned in Chicago, we have to make the most of every minute of daylight. We were up and moving a little after 6 am to hop on a train for an hour ride out to Palantine – one of many towns and suburbs surrounding Chicago – to meet Sarah's boyfriend Jake's parents, Barry and Karen at a hole-in-the-wall bar restaurant for breakfast, It looked a little sketchy at first – there were actually customers drinking at the bar – but the breakfast turned out great and we had a nice two hour visit. They are newly retired and are in the process of moving their household to a new home in Wisconsin. This early morning visit worked out perfect for both of us.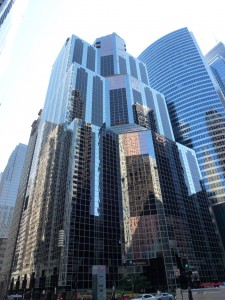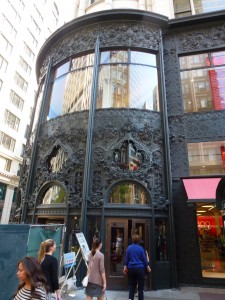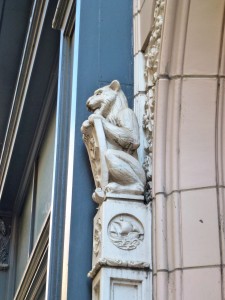 We said our goodbyes and hopped back on the train back to Chicago to do some power exploring. We headed up to the Navy Pier to do the touristy thing and had another random surprise. There are millions of people who live and work in downtown Chicago and we don't know very many of them but as we were walking along the sidewalk near the Navy Pier who do we run into but Bob and Debbie from In My Element – they are staying at the marina just down from us. We of course chatted for a while before Surprise Number Two when we see two people biking up the path on folding bikes (clue number 1) and they rolled up and said, "We know you" and we said., "We know you too".  Dennis and Karen on Shell Seaker were riding up from their marina down the lakeshore about 4 miles and just randomly crossed paths with us – what are the odds. It never ceases to amaze me.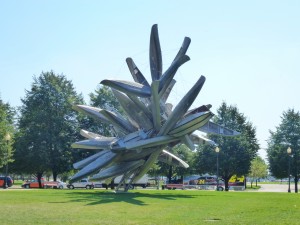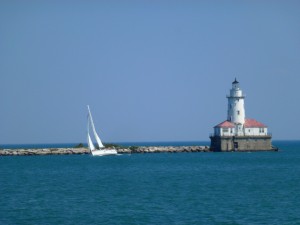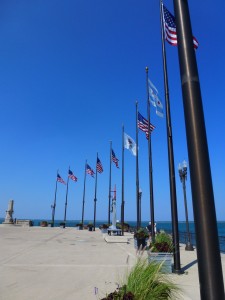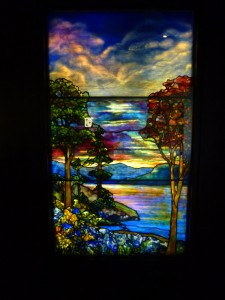 Did I mention it was hot today. We were melting. We wandered around the shops at Navy Pier, had a couple ice cream cones and took in the sights before heading back to the boat. We relaxed in the shade under the sun cover, savored a couple strawberry margaritas (actually strawberry smoothies from the nearby snack stand spiked with a little tequila) and cleaned up before heading over to finally meet up with Eddy and Linda on Spiritus. Of course, while we were waiting for them, we saw Bob and met Calypso again.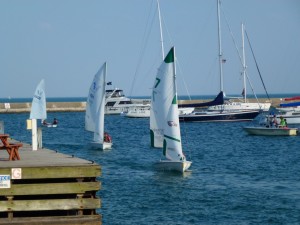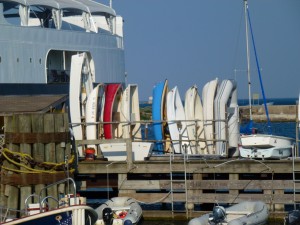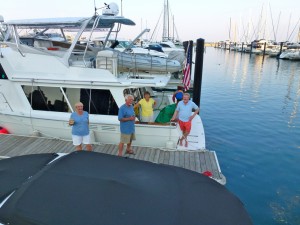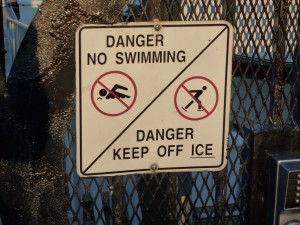 Remember when I wrote about the risks of this boating life? Well, Eddy found out the hard way. A few days ago he was getting on the boat from the dock early in the morning and there was dew on the piece of wood he stepped on and he slipped and fell hard bruising his ribs, knee and calf. It looked painful although he says it feels a lot better – he has not slowed down at all. You're in Chicago – you can't stop now. After a nice reunion chat we went down to a different dock and introduced them to Freya and In My Element and we met Radiance too. We also saw Free At Last and Sun Gypsy also down on that end of the marina. It's like old home week in Chicago.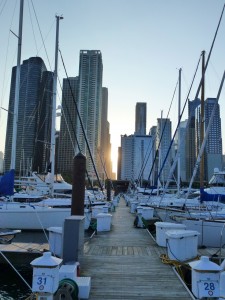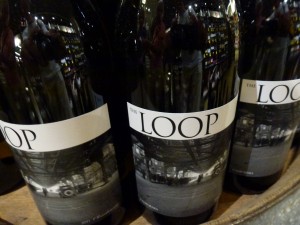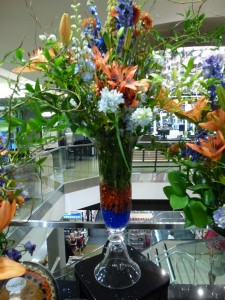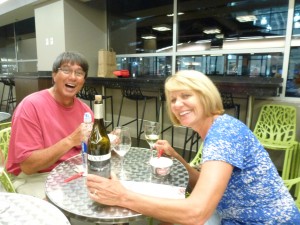 We chatted for a while, laughed a lot and finally headed off for our dinner date. We ended up having checking out this cool grocery store hidden downtown by a park and enjoyed sandwiches and salads, a bottle of "The Loop" wine (thanks Linda) topped off with some gelato to finish out a perfect day. Spiritus is leaving tomorrow but we don't plan to say our "real" good byes until Grafton Illinois after we cross our wake.