Day 2: Thursday, May 28, 2015
Stop to Stop: Stanley Eddy Park to Sauk River Park in Melrose, MN
Underway: 7:45 am   Off Bike: 4:00 pm   Ride Time: 5:15 hrs   Stayed At: Pay Campsite
Miles Traveled: 65.3   Total Miles: 120.4    Weather: Sunny and Windy
First Things First: First time someone asked me where I was going: first time spending money – $0.75 for a cold root beer and $9 for my campsite: Passed my first 100 mile mark on a gravel road somewhere.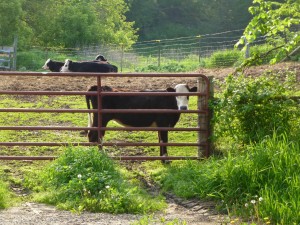 Mile to Mile: I have been planning for months to stay at a free campsite in St. Joseph, MN. It seemed like a nice spot to aim for right on the Paul Bunyan Trail and I like free too. Well I ended up getting into town before noon – way too early to stop especially with wind assist. So I changed plans on the fly and made great progress heading towards Fargo, ND.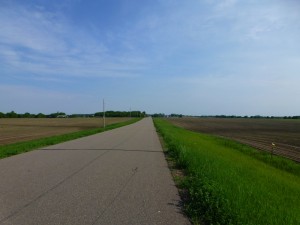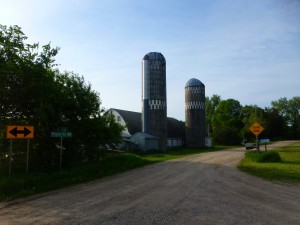 My first night camping was a little uncomfortable. Between the very loud owls owling, the squirrels chirping and the dogs barking, sleep was a bit of a challenge. Also the campsite was sloped a little so every time I moved at night I slid a little farther down hill. I did finally sleep but hopefully tonight is better.
My biggest challenge today was the 20 miles of gravel roads I ended up plowing along. It turns out a bunch of roads are being redone – every one of them on my Google supplied route. Some were okay while others were serious washboard surfaces requiring lots of concentration and luck to navigate while others were so soft it was like riding on ice. I never wiped out but not for lack of trying. At least a serious tailwind helped me out for part of it or I may have given up part way through.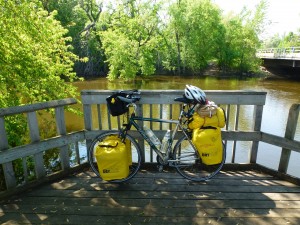 The big payoff came when I got to the Paul Bunyan Trail – now that was well worth the effort getting there. Flat level pavement with no cars, great scenery, bike friendly little towns, strong sometimes helpful wind and only two rollerbladers on the entire 27 mile journey. What more could you ask for. The only real excitement was the near crash with a deer crossing the trail but we missed each other by 15 feet or so.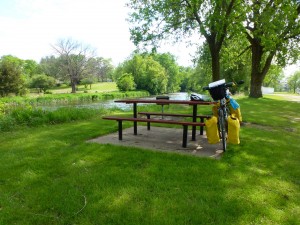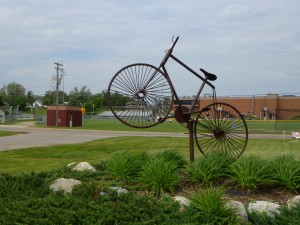 I am typing this on a beautiful, breezy evening right next to the Sauk River with a kids baseball game going on nearby. I'm clean, tired and full (and only a little lonesome) – life is good.