Day 4: Saturday, May 30, 2015
Stop to Stop: Ferguson Falls to Fargo North Dakota
Underway: 7:45 am   Off Bike: 7:15 pm   Ride Time: 7:31 hrs   Stayed At: Campsite
Miles Traveled: 88.3    Total Miles: 287.5     Weather: Sunny and Windy
First Things First: first 80+ mile day (not by choice – error in calculation: First (and probably only) roadkill carp – who knew carp could fly that far: First new state.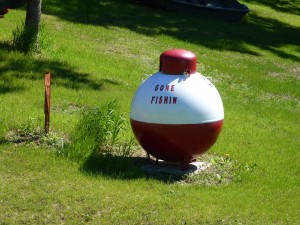 Mile to Mile: When I woke this morning after a cold and windy night it was 39 degrees. Are we having fun yet? I survived but it was a challenge to stay warm.
At least day dawned bright and sunny – perfect biking weather except for the head winds again. My first stop was the Viking Café in town only about 15 minutes away – a good place to refuel and warm up a little. Highly recommended.
I met several people during the day – once before I left camp, one as I was leaving the restaurant and one lady who stopped in the middle of the road while I was having a snack. It's always one of the highlights of a trip like this but I need to factor in social time or I may never get anywhere.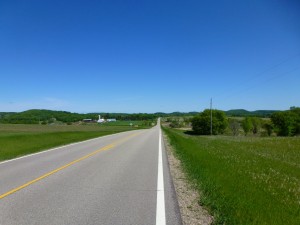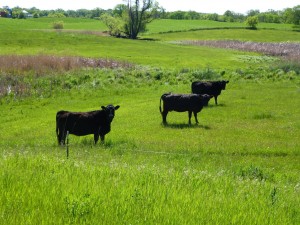 Today was an extra long day. I was running out of gas around 45 miles and thought I had "only" 25 0 miles to go. It turns out I miscalculated an I had 40 left – ugh. Luckily the shoulder got better, the terrain flattened out the beautiful but challenging rolling hills from the morning and I started heading more west which cut the headwind. Just think, I'm 1/10 of the way there – only 9/10 to go. It was a good day.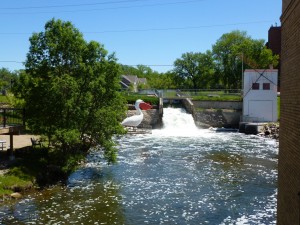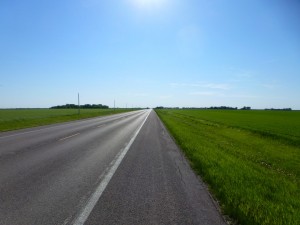 Of course, when I arrived at the city campground they were full – their tent sites are in danger of flooding so I am in an less than ideal RV site near the office and gazebo listening to loud annoying music coming from a grad party. Beggars can't be choosers – at least the shower was amazing. And I needed it for sure.