Day 10: Friday, June 5, 2015
Stop to Stop: Richardton to Medora, ND
Underway: 7:30 am Off Bike: 5:00 pm Ride Time: 6:03 hrs Stayed At: Campsite
Miles Traveled: 72.5 Total Miles: 691.1 Weather: Sunny, SE breeze
First Things First: First time zone change – gained an hour – now on Mountain Time: First 5 mile + downhill –wheee!
Mile to Mile: After a steep climb up and out of the campground, I made good progress toward Medora. It was finally a warm day. It was supposed to be a pretty easy 60 mile day but I decided to stop before Medora to avoid the tourist rush on a Friday – just not feeling it. Well I found a spot to camp along a Forest Service road in some nice rocky scenery. After setting up though, it was hot and I didn't have any phone service. Also, it got noisy after awhile – it sounded like a bunch of dirt bikes. To make a long story short I bailed on this campsite and headed toward Medora. By the way, the dirt bikes were a bunch of cows let loose to graze. On my way out they blocked the entire road.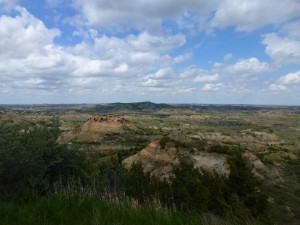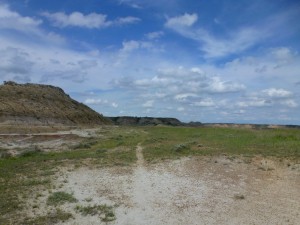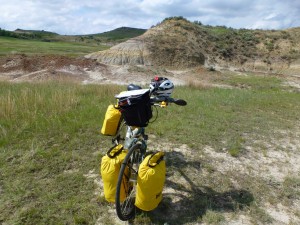 The change in terrain here was amazing. As I exited the freeway by the Painted Rock Info Center, the Badlands of ND were just there. Like a mini Grand Canyon.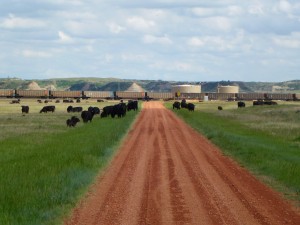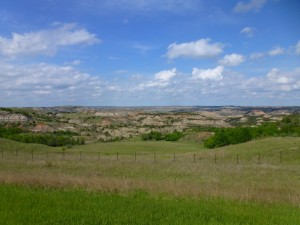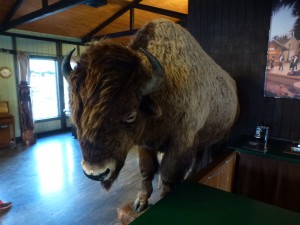 Thankfully, after my detours and adventures it was a quick 5+ mile coast down the freeway to Medora. I skipped the famous western musical – surprisingly today was the season opener – had a cheap buffet, found a decent campsite near the Missouri River, set up camp (again), took a shower and did some blogging to catch up. I'm planning a relatively short day to Beach, MT – can you believe it…Montana! Should be another great adventure – one day at a time. Happy National Donut Day (I did celebrate at the Donut Hole in Dickinson).