Day 11: Saturday, June 6, 2015
Stop to Stop: Medora, ND to Glendive, ND
Underway: 8:30 am    Off Bike: 3:45 pm    Ride Time: 6:09 hrs.   Stayed At: Park
Miles Traveled: 69.4    Total Miles: 760.5 Weather: Partly Sunny, 70's
First Things First: First overnight thunderstorm; First wet tent.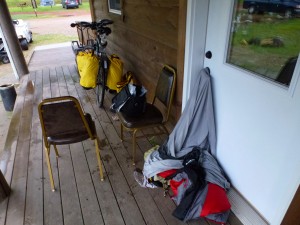 Mile to Mile: first came the lightning, then came the thunder (it sure sounds louder and more ominous in the hills and canyons) and then came the rain. Light at first and then heavier after each crack of thunder. It stormed steady from about 11 pm to 3 am. I would doze a little, hear a crack of thunder and check for leaks. Surprisingly my $29 Walmart tent held up amazingly well. I think I was lucky there was no wind though or I might be telling a different story. Even with over 2" of rain, nothing leaked in…from the top anyways.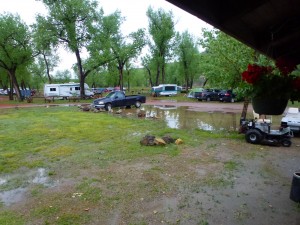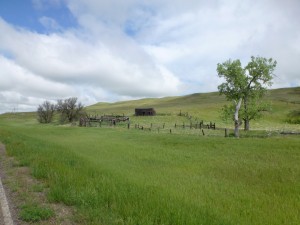 The problem started in one corner. I noticed the foot of the sleeping bag was wet. Ohoh! I just thought it leaked a little around the zipper. Little did I know but my campsite was in the flood zone. A little later, I felt water in a different corner. And then, while feeling around my air mattress the bottom of the tent felt a little funny – kind of like a water bed. That's not good! I finally forced myself up at about 5:30 am. I was still dry on the mattress – but all around the tent was 2" of water. I waded outside and carried all my bags up to the covered deck by the office and assessed the situation. Luckily, the place I had stored my bags that night happened to be above water by an inch so the only things wet in the tent were my sheet, the end of the sleeping bag and a couple stuff sacks. Plus the shirt, shorts and socks I had left out to dry were now wetter than when they were hung up.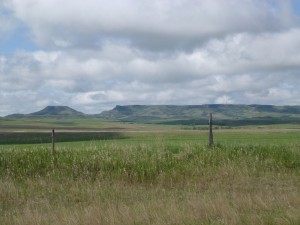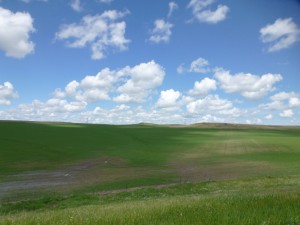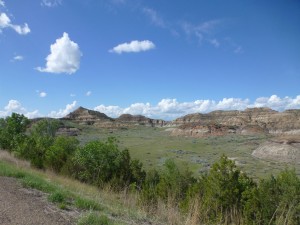 I decided to hang out until 7 am when the office and laundry room opened even though it was light out and I could have been pedaling. The time came and no one showed up. I then realized that a guy the day before had told me it was mountain time here. Crap. My phone was still on MN time. Another hour to waste. I cleaned my bike, reorganized a little, put the tent on a table so it could dry, had cereal for breakfast and finally was able to get all my stuff dry. Three free coffees and a few quarters later, I packed up and was on my way.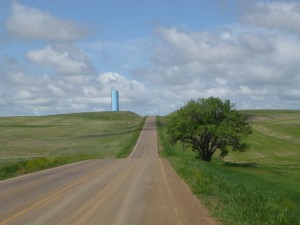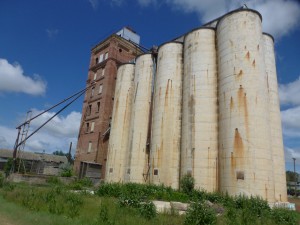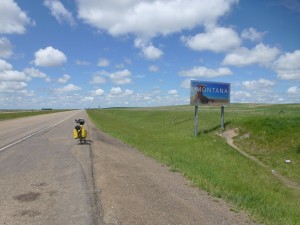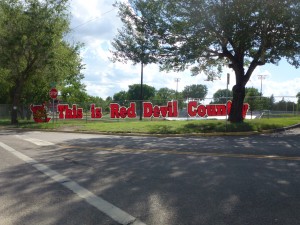 The ride to Glendive made the nightmare of the night before fade quickly. Gentle rolling hills, beautiful scenery, a small wind assist and absolutely no traffic made for fast miles. I didn't see one car for the first hour. – 16 miles with the whole road to myself. Even when I had to ride on the freeway for short distances, traffic was light. It was kind of amazing to, even though I was riding way over on the edge of an 8' shoulder, almost all trucks and most cars still moved into the fast lane when passing. What a gift. Thank you all for that courtesy.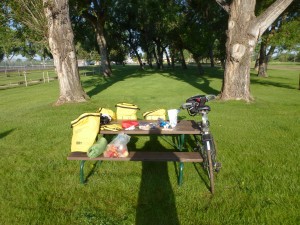 I was excited to pass into Montana – MONTANA – early afternoon. Amazing. I finally arrived in Glendive fairly early for a 70 mile day. I found the beautiful Jaycees Park, adjusted my brakes, cleaned and lubed the chain, adjusted some spokes to true the rear wheel a little, made dinner (oatmeal), set up the tent, filled water bottles, planned for tomorrow and collapsed into bed at about 9:30 pm. All in all, another great and somewhat bizarre day.