Day 12: Sunday, June 7, 2015
Stop to Stop: Glendive, ND to Circle, ND
Underway: 8:30 am    Off Bike: 4:30 pm    Ride Time: 6:00 hrs    Stayed At: Park
Miles Traveled: 50.6    Total Miles: 811.1     Weather: Sunny, warn and …WINDY
First Things First: First track stop shower; First soul crushing day.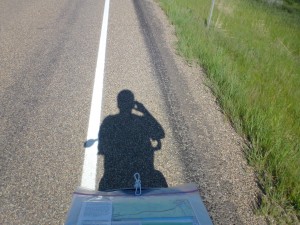 Mile to Mile: Today was planned to be an easy day. I wanted to rest my knees a little, get done early and relax a little. The "towns" are a long way apart and most have limited or no service so you have to plan carefully. I was up at 6:30 am but fiddled with important tasks (remember – easy day) and was finally leaving the nearby Albertson's grocery store at 8:30 am restocked and ready for anything. For a while I thought, "this is going to be easy". Sunny, warm, calm winds and straight, flat road. What a deal. Well, Montana had some news for me. My luck with the wind finally ran out. After an easy first hour, I started feeling it. Flat tire? No. Brakes rubbing? Am I dragging a boat behind this thing? Nope. Oh, the roaring, hot, dry, in-my-face wind must be the problem.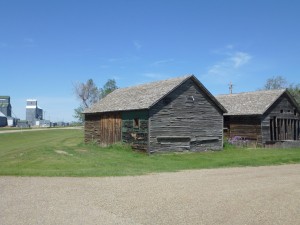 I was ready to collapse by mile 20. I had already finished half my water and I still had 30 mostly uphill and all upwind miles to go. Lindsay, the "town" I collapsed into had no services (or people as far as I could tell. The only building not in danger of collapsing or blowing away was the post office where I filled my bottles with crappy but wet water. I found a little shade by a decrepit old building and made lunch to see if I could re- energize myself. After much agony, I decided to keep going – tomorrow could be worse. I played mind games all the way to Circle. I counted 600 pedal strokes – about a mile at my sometimes pathetic 6 mph. I counted 1/10 of a mile markers…another mile. Soon I got into the right frame of mind and just pedaled. I was thrilled to see a 10 every once in a while on the speedo. Woohoo. I finally raced into Circle at 11 mph and stopped at the first gas station – the Cenex – I came to and had a big gulp and enjoyed a little AC for a while.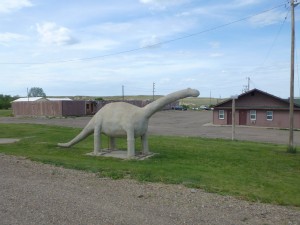 My luck and mood changed in an instant. This station has a beautiful bathroom with a washer/dryer and shower. Better than most we saw on our entire sailing trip. How much is a shower please? Best $5 I have ever spent. I was refreshed, cooled down, rehydrated and even found where the town park is where I can stay for free. Wind, what wind. As I write this, I am at a picnic table, in the shade with a now gentle breeze keeping the bugs away. I'm full, my clothes are rinsed out and almost dry, my electronics are charging and I'm happy again. What a day.