Day 30: Thursday, June 25, 2015
Stop to Stop: Mitchell, OR to Sisters, OR
Underway: 6:30 am    Off Bike: 4:15 pm    Ride Time: 7:18 hrs    Stayed At: Campsite
Miles Traveled: 89 Total Miles: 2,164.5 Weather: Sunny, warm, calm/tailwind
First Things First: First roadside Samaritan offering treats – cold strawberries and carrots; First roadside BBQ in Prineville.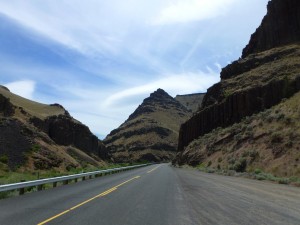 Mile to Mile: I'm flying solo again. Dragon pealed off yesterday and today I decided to head off alone to get some more miles done. I'm motivate tend to get to SF about the same time Cindy does so I want to travel when conditions are good. Today was a great travel day.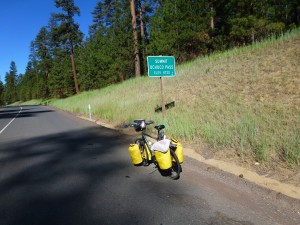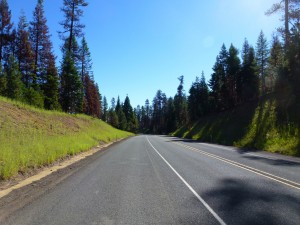 I climbed Ochoco Pass bright and early while is was cool and shady. It was another long climb but it went faster than expected and I was soon spinning my way down the other side toward Prineville. On the way up, a family I met at the hotel stopped to chat and tell me the summit was only about a half mile up – I thought I had at least another half hour of pedaling. I saw them again on the way down at a wayside rest where they generously offered me a few snacks – the cold ripe strawberries were especially good. Thanks guys.
I traveled this road in 1976 when I biked across Oregon and a few place names have bee familiar but today a large beautiful lake/ reservoir near Prineville brought back definite memories. I'm sure I have pics scanned showing the same blue water.
After Prineville the road got busier than I like. The noise is annoying and it's more stressful riding on a skinny shoulder. The scenery was inspiring though especially the snow capped Cascade Mountains off in the distance that urged me west all afternoon. Snow means cooler temps which, with 100+ forecast this weekend, sounds awfully appealing. I hope I get to see at least a little patch of snow up close. Don't tell anyone I said that out loud, okay?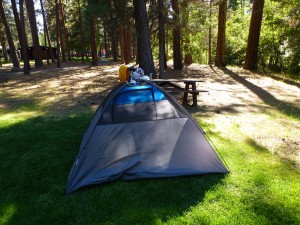 In Passing: Sheep Mountains, Ochoco Pass, Cougar Butte, Black Butte, White Butte, Little Hay Creek, Hat Rock, Deep Canyon