Day 31: Friday, June 26, 2015
Stop to Stop: Sisters, OR to Eugene, OR
Underway: 6:00 am    Off Bike: 5:30 pm    Ride Time: 7:55 hrs    Stayed At: Hostel
Miles Traveled: 101.2     Total Miles: 2,265.7      Weather: Sunny, hot, breezy
First Things First: First 100+ degree day; First time soaking shirt in roadside waterfall to try to keep cool; First kegger with live music.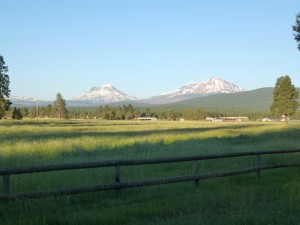 Mile to Mile: Like the temperature today, my emotions spanned a wide range – from euphoria from reaching the top of Mckenzie Pass for the second time in my life, to nostalgia in recognizing scenes from my past, to shear joy flying down the other side along a quiet tree covered lane slowing only for hairpin turns to the mental challenge of slogging a final 65 miles along a busy, noisy, hot and stressful road. Today had it all.
The ride up to the pass was easier than expected with easy grades, dense forest and almost absolute silence all the way to the top. I saw my first car coming towards me after about 20 minutes and the first of four or five cars to pass me on the way up at 40 minutes. I was at the summit by 9 am eating my breakfast next to a massive lava field while looking at the snow peaks of the Cascades in the distance.
The view from the top is stunning. One minute you are climbing the last bit of steep grade to the summit surrounded by tall pine trees, the next minute you pop out at the top right in the middle of a stark, 1,500 year old lava field. Pictures don't capture the surreal view. Nothing is growing except a few brave little pines hanging on for dear life. In some areas it looks like the lava stopped just yesterday a few feet from the road. I didn't't want to leave but the excitement of the downhill ride beckoned so off I went. The backside was even denser forest sprinkled with a little sunlight that trickled through. What a ride – fast and over way to soon.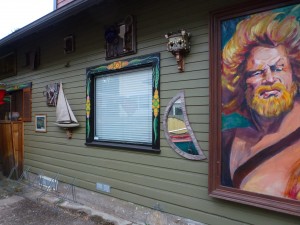 Not much to say about the rest of the ride except that is was work. The heat wave finally caught up with me. It was hot all afternoon although a light headwind helped keep me a little cooler. I was exhausted by the time I rolled into Eugene but a cool shower at the hostel, a snack of crackers, cheese and strawberries with a woman from Switzerland who is almost done with the Transamerica Trail – wow – and some nice entertainment and free beer at the main hostel house made the aches and pains fade quickly. Tomorrows 74 miles to the coast should be cake after today…wait, did someday say cake?