Day 299: Sunday, June 30, 2013
Port to Port: Kingston, NY
Underway: 0:00 am      Motor Off: 0:00 pm      Miles Traveled: 0      Stayed At: Marina
Mile to Mile: Can you guess where we went today? Ron generously offered to drop us off in Woodstock to wander for a few hours while he visited his grandchild nearby. The famous Woodstock concert in the summer of 1969 was originally supposed to held in Woodstock but too many people were expected so they moved the venue to a farm field miles away. The original name stuck though and is now part of history. Woodstock is now a successful tourist trap/art community surrounded by expensive Catskill Mountain real estate. Kind of interesting how things work out.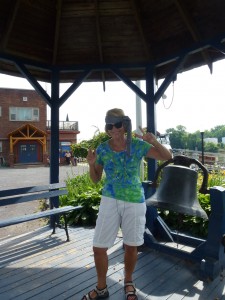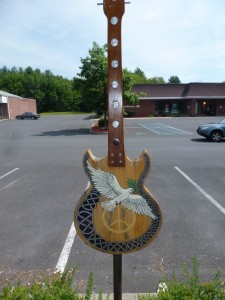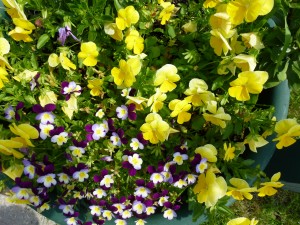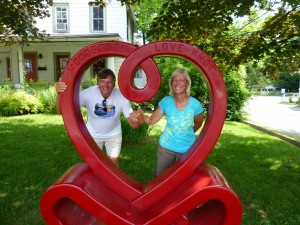 We enjoyed our walking tour of all the little shops and restaurants lining the main downtown area. I didn't realize how scenic this part of NY state was with the haze shrouded green hills of the Catskill Mountains in the background. We saw plenty of tie dye t-shirts, old vinyl records, incense burners and reproduction concert posters. Linda took the Spirit Award for her tie-dye t-shirt, long necklace and bandana. We enjoyed a nice lunch at a little bistro and sat watching a rushing waterfall hidden down a side street. Woodstock is not very big – Ron got done early and found us after wandering only a few minutes. Thanks again Ron for adding another wonderful memory to our stay in Kingston.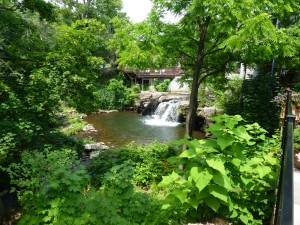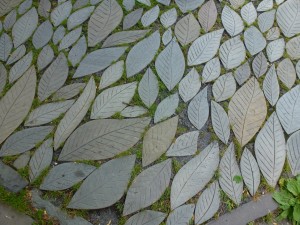 After hitting an ice cream shop on the way home we got back to the marina just as dark clouds started aiming right for us (again). (Not surprising, though since my phone had beeped a warning at me about a flash flood warning for this area). While we were gone, we got a half inch of rain and some nice wind gusts (pulled out a grommet on our sun shade and knocked over chairs on the deck by the marina). I decided to chance it and get some more steps in but I bet wrong and, before I got out of lowertown, it started to pour. I just sat on some steps under an awning for about 45 minutes watching the rain fall and rivers of water rush down the steep hill toward the river. I made it to the overhang on the boat barn at the marina during a short lull but then it started to pour again. After a while, Cindy came out with the big umbrella and we walked to the next marina to get ice and go back to the boat. At the rate we are going, we may not get into Canada until mid July.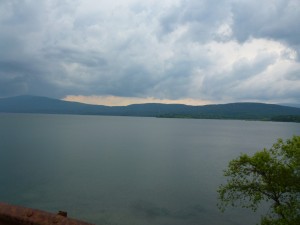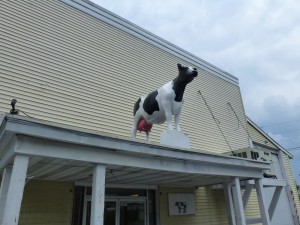 Tomorrow is a huge milestone – Day 300 on the Great Loop! We will have to do something fun to celebrate. Peace out. ☮