Day 26: Sunday, September 30, 2012
Underway: 6:50 am      Motor Off: 1:45 pm      Miles Traveled: 24      Stayed At: Marina
First Things First: First noticeable fall colors; first time we had to stop and wait for fog to clear.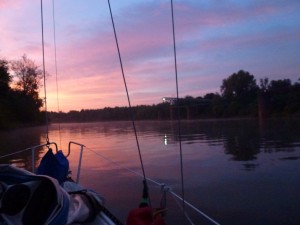 Mile 2 (Tenn) to Mile 32 (Cumberland): The morning dawned bright with slight overcast as we left our cozy anchorage for our next stop – Green Turtle Bay Marina on Barkley Lake. Even though most guidebooks recommend traveling an extra 20 miles up the Ohio and then 30 miles down the Cumberland River, we decided to try our luck with the Tennessee. It is usually busy with barge traffic but early Sunday morning proved to be a quiet time to travel the river. We also called the lock early to find out their status and it looked like locking through would be fairly quick late morning. Our only challenge on the Tennessee was fog which rolled down from the hills midmorning forcing us to pull over to the side to wait till it cleared – probably a wise idea since we couldn't see shore 30 feet away. We just relaxed, made some coffee/hot chocolate and ate breakfast to pass the time.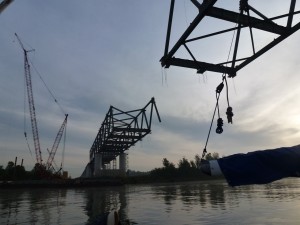 We were underway again in less than an hour and soon arrived at the Kentucky Lock. This lock is huge. And we were the only ones in it as we were raised 50+ feet up to the elevation of Kentucky Lake – a 184 mile long lake created by the dam after it was built in the 60's. Barkley Lake is a parallel 118 mile lake created by the Barkley Dam. This is a boater's paradise. The land in between the two lakes is called the Land Between the Lakes (creative marketing) – and is filled with parks, trails and campgrounds. What an amazing place to spend the next couple of weeks.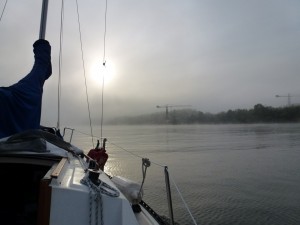 After transiting the lock and passing through a short canal between the lakes we finally arrived at Green Turtle Bay Marina near Grand Rivers, Kentucky where we are going to rough it for the next week – showers, electricity, water, ships store, Yacht Club restaurant, Dockside restaurant, indoor pool, sauna, fitness center, spa, courtesy van, golf cart rentals and free coffee in the marina office.  What more could we need. With our Looper Membership, it will cost us only $130 to stay for the week – it pays to have a small boat too at the usual $1.25 per foot.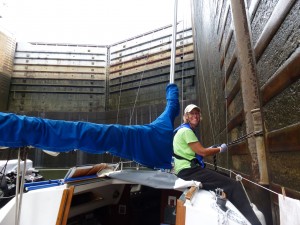 Within minutes of arriving at GTB, Richard and Theresa on "It'll be Alright" helped us get tied up to our slip a few boats down and we chatted for awhile. They are leaving on a 2-3 year Caribbean sailing adventure in about 10 days (but somehow seemed awfully relaxed about all the last minute tasks they needed to finish). They came by later to offer us pulled pork sandwiches for dinner, which, by the time we were cleaned up and settled in at 8 pm, we hungrily ate while enjoying lively conversation in It'll Be Alright's spacious main salon (with it's 6'8" headroom). I can't wait to read about some of their adventurers over the next couple of years.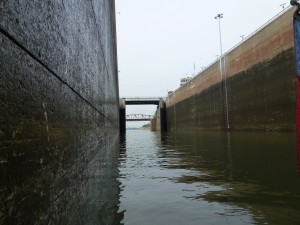 While we were cleaning the boat in the afternoon, a 24' McGreggor sailboat passed by our end of the dock slip and we started talking to the couple onboard. Forty-five minutes later we said goodbye to Carla and Craig on "Time Out" with plans to try to cross paths later. They stopped by our boat after dark to drop off some dessert – peanut butter cups – and hopefully we can get together later before we start traveling south again. They might be future Loopers – you could tell by the look in their eyes they may have gotten the bug.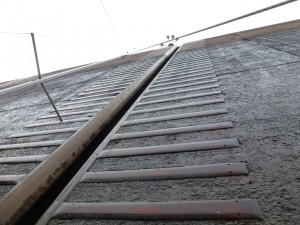 The third couple we met was Ron and Lynn on Northern Spirit – a beautiful 33' Beneteau sailboat. Cindy wants one. They are Loopers from Ontario, Canada near Toronto so we talked about our trip through the Trent Severn Canal System and all the fun we had in Canada in 2002. We made plans to stop by later for a tour.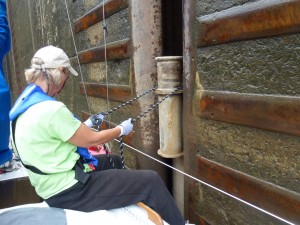 Marina Rule #1 – always leave three times as much times as you need to do a project since you will always end up talking to someone you know or meeting someone new anytime you walk up to the office or bathrooms. I went to take a shower and start our laundry on our first night at GTB and didn't return to the boat for over 2 hours. I made it to the laundry room/shower without incident and finished Phase 1 in only about 35 minutes. While waiting 45 minutes for the clothes to dry, I headed back to Aurora but only got as far as Northern Spirit. Bob and Donnell from Grand Cru were there chatting so I stopped to say hi and the next thing I knew I was invited aboard Northern Spirit for a quick tour and drink. Forty minutes later I remembered the laundry and thought Cindy might be wondering what had happened to me so I left to finish what I started 90 minutes before. The dryer had 8 minutes left so I went out to say hi to Rumpshaker who had just arrived and welcome them to GTB. It was like old-home week. We were really glad to see each other and made plans to get together the next day to get caught up and go to Walmart to restock. I finally stuffed our not completely dry clothes in a bag and got back to Aurora 2+ hour after I left. (Now you know one of the reasons the blog posts have been slow to be updated lately). Cindy had long ago finished her projects and already broken open a bottle of wine without me. Next time she'll have to send out a search party.