Day 56: Wednesday, October 31, 2012
Underway: 7:25 am      Motor Off: 1:55 pm      Miles Traveled: 35      Stayed At: Marina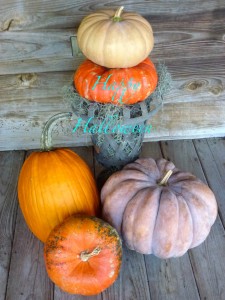 First Things First: First Halloween on the boat; first flocks of shore birds; first ocean going ships; first salty tasting spray; first bird poop on the boat; first time navigating by gps and compass headings; first night with noticeable rolling and banging due to the seas coming into the harbor.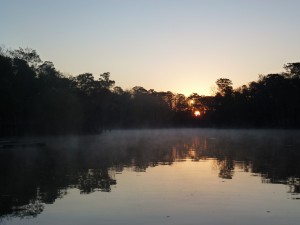 Mile 16 to Mile 0+19 miles across Mobile Bay: What a juxtaposition between where we were this morning and where we are now. We were in the wilderness (right next to a highway) in the middle of a cypress swamp and now we are on the eastern shore of Mobile Bay. We were sad to leave the peace and quiet of the river to return to the hussle and bussle of Mobile, Alabama with all the tug and boat traffic, river front industry and big ships. The wide open spaces of Mobile Bay was also a striking change compared to what we have been used to lately. But our phones work so I guess that is a good thing.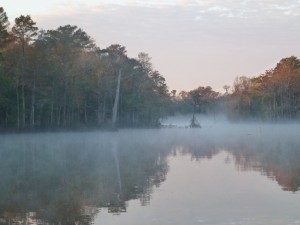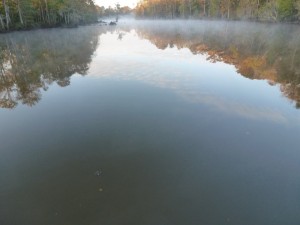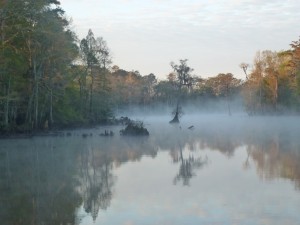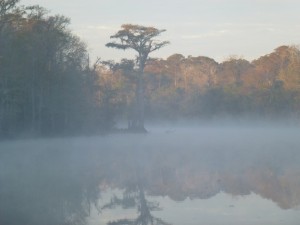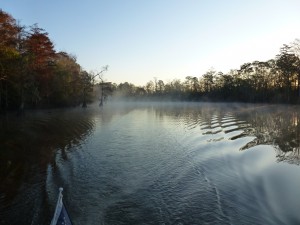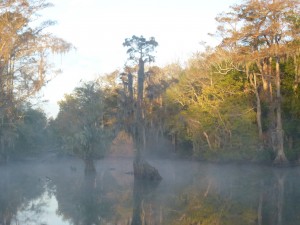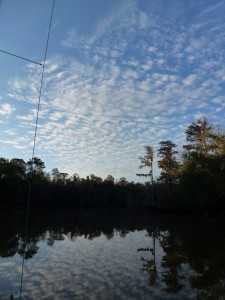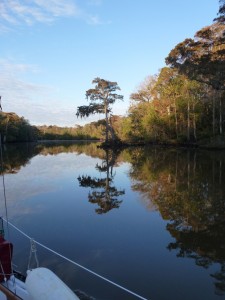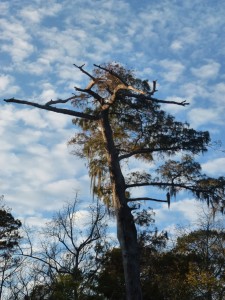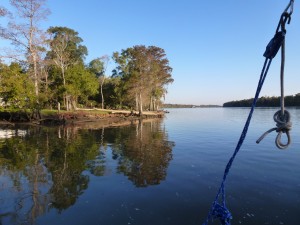 Our trip to Mobile Bay was quiet, beautiful (I took probably 100 pictures along the way), and way too quick. Passing by Mobile was fascinating with all the ships and shipping related businesses along the waterfront. Mile 0 was a pretty cool milestone. We completed the river system and now will be in the ocean, along the intracoastal waterway for the next half year or more.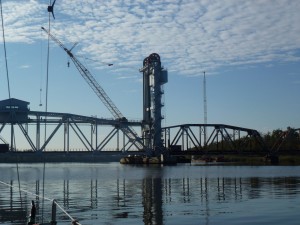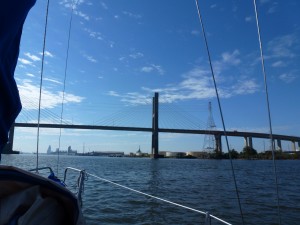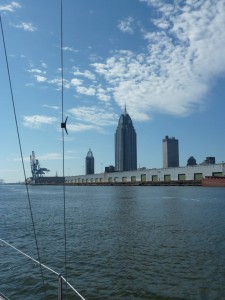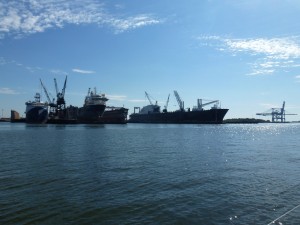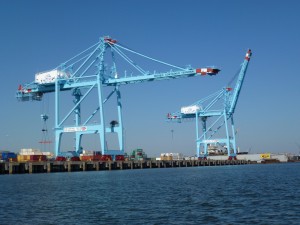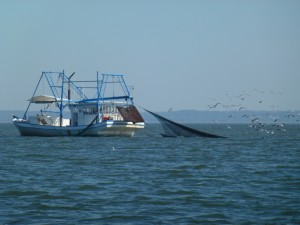 The trip across Mobile Bay was a little stressful at first since we left the shipping lane and cut diagonally across the Bay for Eastern Shore Marina. No buoys to mark the way – just a compass heading and a chart to keep track of where we are going. Mobile Bay is an average of only 10' deep so it's a little nerve wracking even for a shallow draft boat like ours. We even sailed part of the way and let Boris rest a while. The predicted winds were supposed to be from the west but of course they were coming out of the southeast and made for a decent chop. Aurora handled it all really well with only a random spray of salt water coming over the bow but never getting us wet in the cockpit.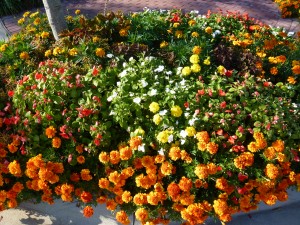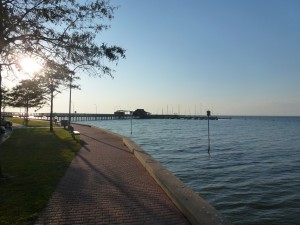 We arrived at Eastern Shore Marina early in the afternoon in time to relax and explore the nearby town of Fairhope (look it up – it has an interesting history). We lucked out that somebody cancelled their reservation for the courtesy car so we were able to wander around town, look at (but don't buy) the stuff in some of the shops, have an early dinner at an empty restaurant, and hit Walmart to restock our cupboards (plastic bins). It was weird (but fun) to see people dressed in costumes and all the Halloween decorations.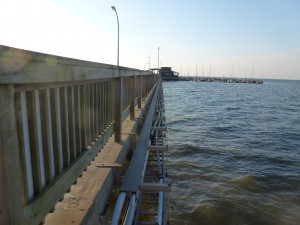 One advantage of being on the Gulf is the temperatures – its warmer here than we've had lately. Our destination tomorrow is Barber Marina near Orange Beach to visit our friends on Rumpshaker – that should be a fun excuse for a boat party or two – we can't wait.