Day 161: Tuesday, February 12, 2013
Port to Port: Fort Myers Beach
Underway: 0:00 am      Motor Off: 0:00 pm      Miles Traveled: 0      Stayed At: Marina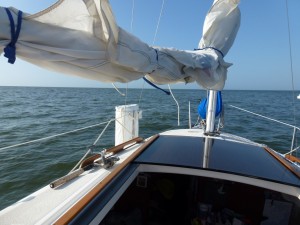 Mile to Mile: We decided to get off our butts and go sailing today. The forecast was for sunny skies and winds of less than 10 mph – perfect sailing conditions. Going sailing is a little more involved than just starting the motor and heading out. We took the dinghy to the dinghy dock and secured it there. We made sure the Ipad and GPS were charged. We took the extra gas cans and cook kit off. We checked the charts so we could tell where there are shoals. We reran the jib sheets and took off the sail covers. We tested the motor to be sure it still was running good. We waited a little while for slack tide and, when everything was ready, we untied the seven lines holding us perfectly in the center of our slip and backed out into the channel. Now we are ready to sail.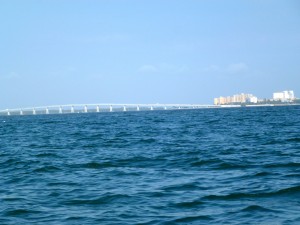 We hadn't been motoring up the channel for 5 minutes when we saw the first of several groups of dolphin heading in to feed. We never get tired watching them. The winds were a little light when we first got out of the channel but we were enjoying the gentle reach over towards Sanibel Island. Except for idiotic random crab pots (I do not understand why they are allowed in such busy traffic areas), conditions were perfect. I decided to try fishing again and, within 10 minutes had caught my first small Spanish mackerel. I kept fishing for a while and got a few strikes but no one held on for more than a few seconds. I might have to try fishing from the pier so we have enough fish for dinner.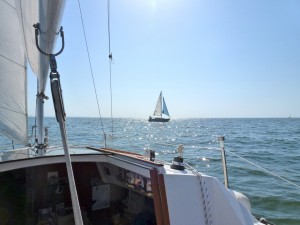 The wind gradually increased along with the surf until it became a little to much like work to stay out there – it was amazing how much traffic there was for a Tuesday early afternoon. We took down the sails and headed back in about 1 pm. We docked without any problems, retied all our line, stowed the sails and cleaned the boat (its amazing how much of a mess one little fish flopping around can make). We'll have to do that again.