Day 367: Friday, September 6, 2013
Port to Port: South Haven to St. Joseph, Michigan
Underway: 8:01 am      Motor Off: 12:00 pm      Miles Traveled: 24      Stayed At: Marina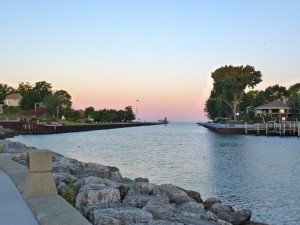 Mile to Mile: Today was pretty much a carbon copy of yesterday except we did not have the northerly swells (yaa!) and we only went 24 miles. It didn't help us to go farther since we will still have two modest hops left to get to Chicago. We motor-sailed the whole way again which just makes the whole trip a lot more fun for some reason. More sand dunes and sandy beaches slowly passed by on our port side as we aimed straight down the shore for St. Joseph's. Before we knew it, we were motoring up the channel and turning into the West Basin Marina just in time for lunch. Carina led the way and Shell Seakers zoomed up behind us just as we entered the breakwater. Our Looper group is slowly shrinking – they aren't too far ahead, though, since a large group of Loopers left the West Basin this morning aiming for Michigan City which is the last hop before Chicago. Hopefully, we will catch up and have another fun reunion before we all cruise south on the Illinois River.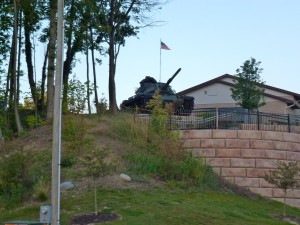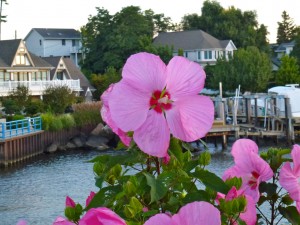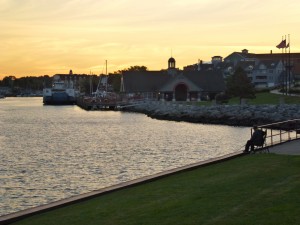 We found a nice protected spot to tie up next to the seawall, had lunch, scrubbed the grime off the boat and had plenty of time to walk over the bridge to make a quick tour of downtown before we had to be back for docktails. With only six of us around, docktails was quieter than usual but we still had fun – for some reason we ended up sharing our boating horror stories but you learn a lot listening to the bad as well as the good (and since we all survived, it can be funny, after the fact).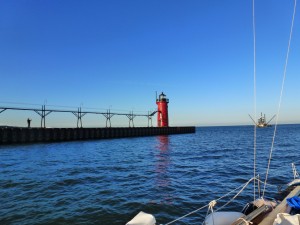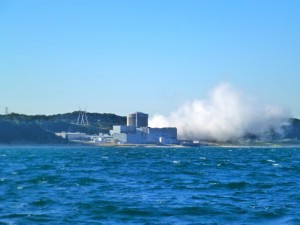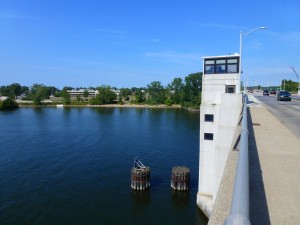 Just in case anyone was wondering, real life does not take a holiday while you are boating. We have been very lucky so far with only stubbed toes and a few bruises (know on wood) but we have heard about a lot of other accidents or health issues which are more serious. Boats are basically accidents waiting to happen. There are lots of things to hit, bang or trip on. Things break. The decks are slippery. Boats move in strange and unexpected ways. Docks aren't any better with lots of tripping hazards, oddly placed cleats, uneven surfaces and lines to trip over. We have heard of people crushing their knee between a lock wall and boat, dislocating their shoulder trying to hang on to a line at a lock too long and falling in the water, falling off their bike and breaking their arm, slipping and straining knees and twisting their ankles. Normal health issues also still afflict boater including the flu, colds, cancer and heart attacks. This is just part of life and everyone deals with it as it comes. At least we are all doing something we love when the real world inevitably shows up.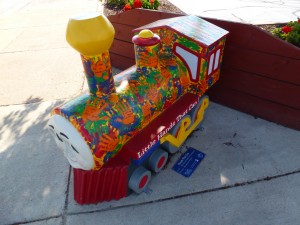 We plan to hang out here for an extra day since the wind is supposed to kick up out of the southwest tomorrow making for a lumpy day. Chicago will still be there when we get there and this gives us a little time to relax, explore and maybe squeeze in a nap if we get everything else done. Plus, we aren't in any hurry to be done – we're unemployed remember so as long as the snow doesn't start flying, we are going to savor every moment while it lasts.