Day 27: Monday, June 22, 2015
Stop to Stop: Richland, OR to Baker City, OR
Underway: 7:15 am    Off Bike: 12:20 pm    Ride Time: 4:11 hrs    Stayed At: Campsite
Miles Traveled: 45.6     Total Miles: 1,916.6      Weather: Sunny, warm, calm
First Things First: First day with no firsts that I can remember.
Mile to Mile: Another relatively short day today at only 45 miles. The terrain is changing from tree covered mountains and canyons earlier to lower shrub covered hills today to high desert later this week. Temps have been perfect for bike travel – especially in the morning but the trend line for this area later this week is highs above 110 degrees. Might be time to boogie.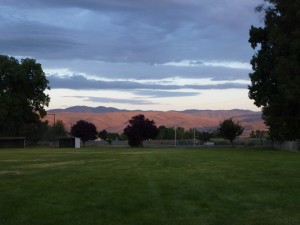 One of the ways we measure time is changing map panels or, better yet changing maps when we get to a final map panel. Today we changed to the last map taking us to Eugene, OR. That's crazy. I will still have parts of two maps for the Pacific coast but I can't think that far ahead.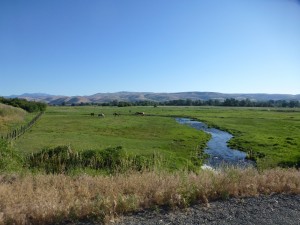 It's interesting how well laid plans change almost everyday. Cheese and Dragon we're going to stay at the Best Western and chill out for the afternoon. They called to see what kind of deal they could get which was tolerable but not a deal. They decided to wait and see. I was going to camp – it's cheaper, I've been sleeping well and the weather is good. So we pull into a RV Campground just as we get to Baker City and they are willing to let us set up three tents on one site, the have a little store, a laundry room, great showers and shade. What more do we need. So $5 each and all plans have changed, everyone is happy and we have time to nap to our hearts content. Life is good.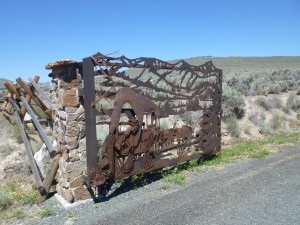 In Passing: Immigrant Gulch, Dry Gulch Rd, Timber Canyon, Maiden Gulch, Love Creek, Glasgow Butte, Virtue Flat, Powder River, Coyote Creek.