Day 399: Tuesday, October 8, 2013
Port to Port: Hastings to Fort Snelling Park
Underway: 8:11 am      Motor Off: 2:32 pm      Miles Traveled: 33       Stayed At: Anchor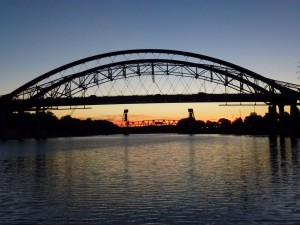 First Things First: First time cruising and anchoring on the Minnesota River.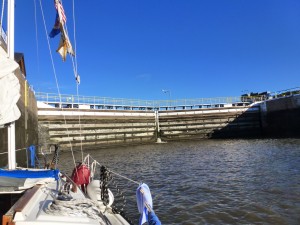 Mile 814 to Mile 844: Of course our last official lock made us wait while a two part tow made it's way through and downstream. Que sera, sera. I used the time constructively by walking 20 minutes to the nearest gas station to get coffee/hot chocolate and some ice. It was chilly but the sunrise was stunning under the new Hastings Bridge. After an almost 2 hour wait, the tow finally started moving and we headed up to be ready to go in as soon as it was safe. All I could think of was, "okay, don't hit the wall this time after 170+ locks. Make it look good". And it was a perfect lock-thru. We may end up going up and through Lock Number 1 just for the fun of it but Lock 2 is our last official lock on our personal Loop. Woohoo!
Click Here: Mississippi River Journey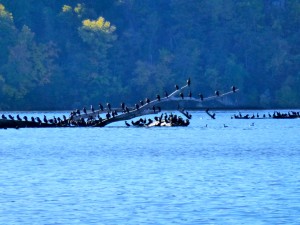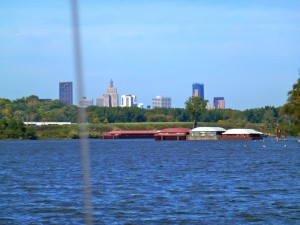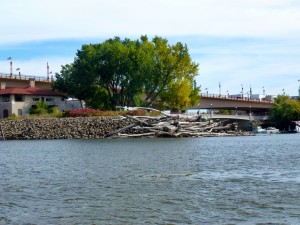 As soon as we made it a short way upstream we put up the sail and motorsailed on a mostly beam reach/run with a strong breeze from the south. As we got closer to civilization, we had to keep a sharp lookout for tows, tugboats and bridges that needed opening. Not a leisurely cruise but fun to see the St. Paul skyline for the first time since last fall when we left. It seems like a lifetime ago.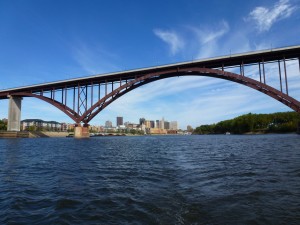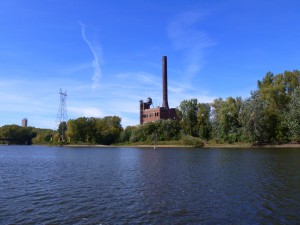 We were planning to go through Lock 1 and anchor upstream near the University of Minnesota but the winds were forecast to be 10-35 mph from the south and the channel above the lock is oriented N/S. We decided to head up the Minnesota River to anchor along the bank where we had better protection from the wind, less potential tow traffic and only a few miles from the Watergate Marina where we started our adventure. We are in the middle of the Twin Cities but we can't see any buildings or bridges from where we anchored. Pretty cool.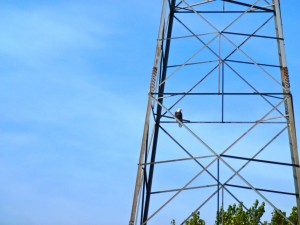 We are excited to almost be home but have no idea what we are going to do next. We are trying hard to avoid reality as long as we can but, especially as we are trying to sleep, to do lists start invading our brains. We are going to work hard to enjoy the last few hours of this amazing adventure – reality can wait at least until Monday when property taxes are due.